Objective - Community Growth

Invest time and resources that provide a platform for community enhancement and development.
Note: This was also a 2021 Commission Priority.
---
Key Team Members
Planning Director Nicholas Hutchison
Business Development Specialist Melanie Reason
Communications Manager Pam Spencer
---
Community Growth Priority Details
Expectations

In concert with the McCracken County Fiscal Court, update the Comprehensive Plan and evaluate potential annexations.
Promotion of community assets
New business recruitment
City/County collaborations
Continue the Remote Workers Incentive Plan 

Accomplishments - 2021 to present

Annexations  Met with Kentucky Transportation Cabinet to review roadway plans to determine how new routes could affect future annexations. There is dedicated funding in the budget for annexations. Annexations since 2021 include 5540 Cairo Road, 185 Lion's Den Lane, 5250 U.S. Highway 60, 5266 U.S. Highway 60, 54 70 Old Highway 60, 5345 Hinkleville Road, 5435 U.S. Highway 60, and 3520 Olivet Church Road.

Ordinance Updates  Amended the zoning code to allow mobile food vehicle courts as an exemption requiring a planning and zoning permit. 

Incentive Programs  Staff researched annexation incentive programs with a recommended program approved by the City Commission in January 2022.

Comprehensive Plan  City met with McCracken County staff and the Planning Commission Chair to discuss a partnership for the Comprehensive Plan update.  A Request for Proposals in partnership with McCracken County for a City/County Comprehensive Plan was issued with responses due in November 2022. Three responses received with Kendig Keast Collaborative selected. The City approved an interlocal agreement with the County in February 2023.

City/County Collaboration  The plan is to hold collaborative meetings as it relates to community growth among the Mayor, City Manager, Planning Director, McCracken County Judge Executive, and Deputy Judge Executive.

Commercial Property  The City has appraisals of city-owned commercial properties. These properties will either be listed for sale or solicited through a request for proposals process.

Remote Workers  The Remote Workers Incentive Program is continuing. So far, six individuals have moved and received the Remote Workers Incentive. More than two dozen applications have been received. Staff is reviewing the current program to determine next steps.
---
Annexations Over Time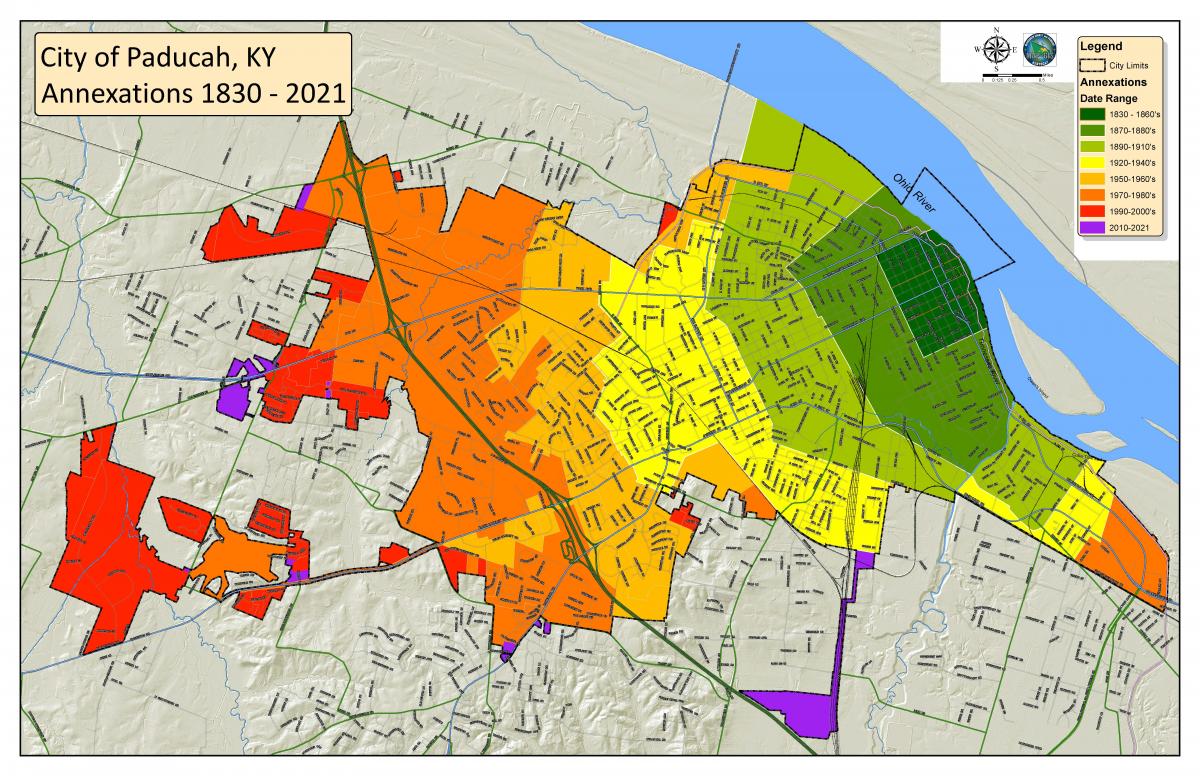 ---
Commission Priorities
Read all Commission Priorities and Continuous Improvement Items including each action item's objective, key team members, and expectations by visiting Commission Priorities.