About the Awards and Recognition Ceremony
The Paducah Police Department held its 11th annual Awards Ceremony on February 4, 2020, at Walker Hall in downtown Paducah. Employees and civilians were honored for their work in 2019.  Visit Awards and Recognition Criteria for a list of the possible awards and the criteria used in judging.
2019 Employee of the Year - Officer William Hendrickson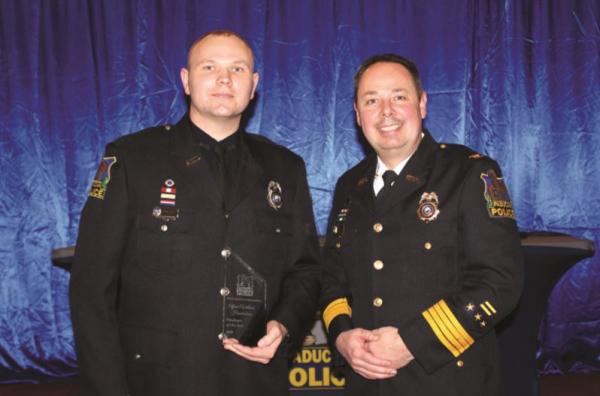 Each year, the Chief of Police has the difficult task of selecting one employee nominated by his or her peers, whose performance of duties rose above all others during the previous year.  For his hard work and demonstration of leadership, dedication and compassion, Officer Hendrickson was chosen as the Paducah Police Department's 2019 Employee of the Year.
Officer Hendrickson is a relatively young officer, having served with the Paducah Police Department since August 3, 2017.  He was nominated by Officer Adam Brown.  In his nomination, Officer Brown said, "As a patrolman, I do not get the benefit of observing the hard work of administration.  I generally just reap the benefit.  What I see is primarily the day in and day out grind of the brunt work of policing.  I see how effective patrolmen handle calls for service, how they deal with stress on those calls, and the way they demonstrate leadership."    
"In 2019, I witnessed and listened to Officer William Hendrickson on numerous occasions demonstrate veteran officer skills even though he has but only a few years on the force.  He constantly monitors his radio and the system we utilize to display the calls for service, which generally leads to a hasty call response with great knowledge of the situation."    
Officer Hendrickson was awarded the 2019 Governor's Impaired Driving Award with 16 DUI arrests.    
"He has saved lives this year," Officer Brown said.  "We know Officer Hendrickson to be an intelligent and extremely active officer.  Anyone would agree that the Employee of the Year should awarded to the hardest working employee that genuinely brings value to the department."    
During 2019, Officer Hendrickson compiled some impressive statistics for his first full year of service.  He recorded 1,391 calls for service; 1,034 of those calls were self-initiated.  He had 479 traffic stops and a total of 213 citations.  Of those, 158 were traffic citations, 54 were criminal citations and one was a juvenile citation.  Officer Hendrickson had 112 arrests – 34 of them traffic arrests, 36 criminal arrests and 42 warrant arrests.    
15-Year Safe Driving Awards
Sgt. Troy Turner
Chief Brian Laird
10-Year Safe Driving Awards
Capt. Wesley Orazine • Capt. Christopher Baxter • Sgt. Christopher Bolton • Sgt. Shawn Craven • Sgt. William Hodges • Sgt. Matthew Scheer • Officer Travis Counts • Officer Dana Davie • Det. Jason Hicks • Officer Christopher Fearon • Officer Keith Thuline • Officer Derik Perry 
5-Year Safe Driving Awards
Sgt. Matthew Hopp • Sgt. Steven Thompson • Officer Jason Montgomery • Det. Nathan Jaimet • Det. Blake Quinn • Officer Matthew Jones
Administrative Award
Capt. Joseph Hayes
Civilian Service Awards
Ryan Johnston • Gary Schaaf • Samantha Cothran • Marian Abell • Chaplain Kempton Baldridge • Amanda & Josh Esper • Cheryl & Rodger Harrison • Lucy & Tony Milliano • Joe Frampton • April Wolfrom
Lifesaving Award
Sgt. Steven Thompson (2nd) • Officer William Hendrickson (2nd) • Officer Cameron Thomason (1st) • Officer Carlos Kerley Jr. (1st)
Meritorious Service Award
Officer Andrew J. Parrish
Service Commendations
Officer Zane White (1st) • Officer Codey Strong (2nd) • Officer Brandon Jones (1st) • Officer Joshua Bryant (3rd) • Capt. Wesley Orazine (5th) • Capt. Christopher Baxter  (3rd) • Sgt. Shawn Craven (3rd) • Sgt. Matt Scheer  (5th) • Det. Corey Willenborg (6th) • Det. Beau Green (4th) • Det. Nathan Jaimet  (5th) • Officer Daniel Kimball (2nd) • Det. Jordan Murphy  (1st) • Officer Adam Brown (2nd) • Sgt. Matthew Hopp  (2nd)
Chief's Awards 
Officer Travis Counts (1st) • Capt. Wesley Orazine (1st) • Officer Joshua Bryant (1st) • Officer Eric Taylor (1st) • Detective Kevin Wilson (1st) • Officer Cassandra Skinner  (1st) • Officer Jason Armstrong (1st)