About Awards and Recognition 
Visit Awards and Recognition Criteria for a list of the possible awards and the criteria used in judging.
2020 Employee of the Year - Detective Kevin Wilson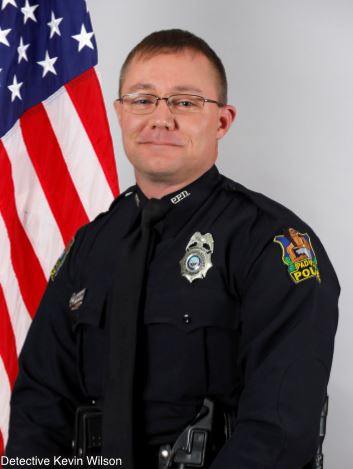 Dedication, professionalism, commitment, pride, and hone.  These are just a few of the words used to describe the Paducah Police Department's Employee of the Year for 2020.
Each year, the Chief of Police has the difficult task of selecting one employee nominated by his or her peers, whose performance rose above all others during the previous year.  For 2020, that employee was Detective Kevin Wilson.
In his nomination of Det. Wilson, fellow detective Jordan Murphy cited a number of occasions that Det. Wilson put service before self to ensure justice for crime victims.
"His continued commitment to the department does not go unnoticed," Det. Murphy said.  "While on paternity leave, Det. Wilson made a middle-of-the-night visit to the office to compile documents for a court proceeding, solely to ensure the wheels of justice never stopped turning, despite his being off work."
Like many others, Det. Wilson had to quarantine after a COVID-19 exposure, but he did not stop working.
"When recently forced to quarantine, Det. Wilson declined taking sick time instead requesting to work from home to continue investigating his open cases, so justice could continue being sought for his victims," Det. Murphy said.
The novel coronavirus affected all areas of life, and law enforcement was no exception.  The virus made investigation of crimes more difficult.
However, Det. Wilson investigated 53 criminal cases in 2020 and closed 33 of those – 19 with an arrest.
"Numerous violent offenders have been arrested and successfully prosecuted due to Det. Wilson's hard work and dedication," Det. Murphy said.  "He is also a team player, setting aside his work when needed to assist the unit as a whole.  This was evidenced as he spent weeks conducting in-depth follow-ups, processing evidence and compiling information during a homicide investigation."
Det. Wilson was lead investigator in one homicide case in 2020, and secondary investigator in two others.  He secured a confession in an attempted murder case, and through his interviews was able to close multiple cases involving the same suspect in other states.  On three separate occasions, he identified a suspect in an investigation only to learn that the suspect had fled Kentucky.  He worked with authorities in other jurisdictions to assure the suspects were taken into custody and evidence was secured.
Det. Murphy said Det. Wilson sets a superior standard as senior detective in the General Investigations Unit, and displays pride and honor in his work.
"I truly believe one would be hard-pressed to find a harder worker at the Paducah Police Department."
15-Year Safe Driving Awards
Officer Jarrett Woodruff
5-Year Safe Driving Awards
Sgt. Travis Watson • Officer Cody Santel • Officer Daniel Kimball • Officer Danny Slack
Administrative Awards
Officer Christopher Fearon (3rd) • Mary Farrell • Samantha Collins • Laura Peery • Sarah Lambert
Civilian Service Awards
Michaela McCormick • Courtney Coley • David Johnson • Demetric Burns • John Saxon • Will Shelby
Lifesaving Awards
Officer Zane White • Officer Adam Brown • Officer Matthew York • Sgt. Steve Thompson • Officer Josh Bryant • Officer Dana Davie • Officer James Robbins • Officer Brandon Jones • Officer Cameron Thomason • Officer A.J. Parrish • Officer Matthew York (2nd) • Officer Zane White (2nd)
Service Commendations
Capt. Troy Turner (3rd) • Officer Justin Canup (5th) • Det. Ryan Hudson (4th) • Sgt. Travis Watson (1st) • Officer Benjamin Anthony (1st) • Officer Jason Armstrong (1st) • Officer Logan Barrow (1st) • Det. Chelsee Breakfield (1st) • Officer Adam Brown (3rd) • Officer Nickolas Francescon (3rd) • Det. Beau Green (5th) • Officer William Hendrickson (2nd) • Sgt. Jason Hicks (3rd) • Sgt. William Hodges (3rd) • Officer Daniel Hunerkoch (1st) • Det. Nathan Jaimet (6th) • Officer Pedro Loredo (1st) • Det. Jordan Murphy (2nd) • Officer Cody Santel (1st) • Officer Danny Slack (2nd) • Officer Casey Steenbergen (1st) • Det. Eric Taylor (2nd) • Officer Cameron Thomason (1st) • Sgt. Steven Thompson (2nd) • Det. Corey Willenborg (7th) • Det. Kevin Wilson (1st) • Officer Andrew J. Parrish (3rd) • Officer Dana Davie (3rd) • Det. Ryan Hudson (5th) • Officer James Robbins (4th) • Officer Cody Strong
Chief's Awards 
Officer William Hendrickson (1st) • Det. Jordan Murphy (1st) • Officer James Robbins (2nd)