Date of release: August , 2021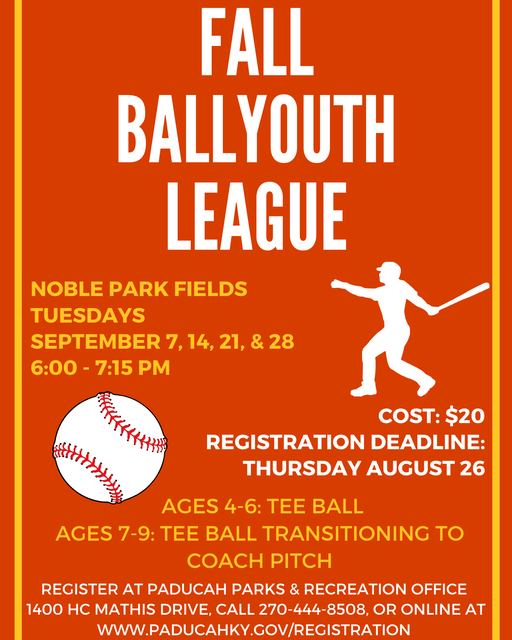 Registration is underway for the Fall Ball Youth League. Paducah Parks & Recreation invites parents of boys and girls ages 4 to 9 to register now for the upcoming league which is held at Noble Park. Players ages 4 through 6 will play in a tee ball league, and players ages 7 through 9 will play tee ball and transition into coach pitch based on each player's ability.
Registration is available at the Parks & Recreation office at 1400 HC Mathis Drive from 8 a.m. to 4:30 p.m. Monday through Friday, by phone at 270-444-8508, or online at www.paducahky.gov/registration.  The registration fee is $20 for each participant. The registration deadline is Thursday, August 26.
The League will be held on Tuesdays in September from 6 to 7:15 p.m. at the Noble Park Baseball Fields. Each Tuesday will consist of 30 minutes of practice and a scrimmage for 45 minutes. Players should bring their own glove, tennis shoes or cleats, and athletic apparel. All other equipment will be provided. We ask parents to assist as volunteer coaches.
If you have questions about the upcoming league, contact Paducah Parks & Recreation at 270-444-8508 or parkinfopaducahky.gov. 
###