Contact

Randy Crouch

Assistant Public Works Director
Mission, Divisions, and Operations
The mission of the Public Works Department is to provide effective and efficient maintenance and support services for all citizens of Paducah.  We strive to use cost effective resources to deliver quality services for the maintenance of streets and City facilities.  
Street Division  The Street Maintenance Division is responsible for the maintenance of approximately 446 lane miles of City roadways in addition to right-of-ways, sidewalks, alleys, curbs and gutters, independent storm sewer facilities, and the landscaping of downtown and landscaped areas outside of City parks. Street Maintenance maintains more than 3,000 traffic signs and 6,000 storm inlets. This division assists the Engineering Department with work associated with all City street restoration and rehabilitation coupled with Municipal Aid Program. Although lights are occasionally added to existing roadways, the majority of new lights come from new developments. 
Facility Maintenance Division  The Facility Maintenance division is responsible for the maintenance and care of 30 buildings (20 City employee occupied, 10 leased facilities), and 12 City owned/operated traffic signals. This division provides support staff to the Parks Department for facilities including pools, shelters, playground equipment, and the skate park. Additionally, the Facility Maintenance Division provides custodial services of City-owned facilities and downtown restrooms, and maintains the aesthetics of decorative lighting systems on various City properties.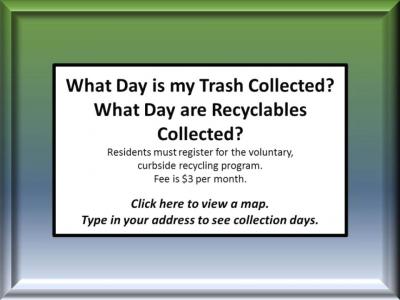 Solid Waste Operations  The Solid Waste Division is dedicated to serving the citizens of Paducah by providing reliable quality Solid Waste and Yard Waste Collections and voluntary Recycling opportunities.  Solid Waste provides weekly solid waste collections for approximately 11,500 City customers and approximately 900 commercial businesses with multiple weekly collections and provides a Compost Facility that serves all of McCracken County.
Fleet Maintenance  This division oversees the Fleet Maintenance Fund and strives to establish efficient and effective delivery of City fleet services by providing customers with safe, reliable, economical, and environmentally sound transportation and related support services. Fleet Maintenance maintains and repairs all City vehicles and provides outside service to other agencies. 
---
Frequently Asked Questions
I have a pile of tree limbs and some bags of grass clippings.  How do I schedule them to be picked up?

Contact the Public Works Department at 270-444-8511 to schedule the collection of yard waste.  If you have a small amount such as a couple of bags of grass clippings or a few twigs, place them in your garbage rollout for collection on your regular trash collection day.

What are the location and hours of the compost facility?

The Compost Facility is located at 1560 North 8th Street.  The Facility is open Monday through Friday, 7 a.m.-3 p.m. 

How much does the mulch cost at the compost facility?

Compost is $20 per scoop.  One scoop is roughly two yards which is a pick-up truck load.  

Does a property owner have to trim vegetation on private property if it is adjacent to a public street or place? 

Yes, it is the responsibility of the private property owner to maintain the vegetation on private property but next to public property.  According to City of Paducah Code of Ordinance Ch. 118 Section 118-41, trees, vines, bushes, shrubbery, or flowers standing in or upon any lot or land adjacent to any public street or public place and having branches, limbs, trunks, or other parts projecting into the public street or place shall be kept trimmed by the owner or occupant of the property.  The vegetation should not interfere with pedestrian or vehicular passage and should not obstruct the view of any street intersection, commercial entrances, and regulatory or warning signs.

Who is responsible for tree maintenance along public rights-of-way?

The private property owners adjacent to public rights-of-way are responsible for providing reasonable care and maintenance to street trees within the public right-of-way.  According to City of Paducah Code of Ordinance Ch. 118 Section 118-38, the trees should not interfere with public safety by interfering with public passage or creating an obstruction of view.   Also, the minimum clearance of any overhanging tree portion should be ten feet over sidewalks and 16 feet over all streets.  However, according to City of Paducah Code of Ordinance Ch. 118 Section 118-39, it is unlawful as a normal practice to top any tree within the public right-of-way.