Walk the Greenway Trail
Paducah has more than 5 miles of Greenway Trail linking downtown to County Park Road running through Bob Noble Park and Stuart Nelson Park and adjacent to the Ohio River Boat Launch.  Much of the trail is concrete and follows the top of the floodwall levee.  The 1.75 mile stretch between County Park Road and Bob Noble Park is gravel and surrounded by woods.  The best places to park and access the trail are at Stuart Nelson Park, Bob Noble Park, or the Convention Center and riverfront
The bridge in the picture is a beautiful backdrop for photos.  There are two similar bridges that can be accessed from the back of Stuart Nelson Park on the Greenway Trail next to the disc golf course.  Head either left or right on the trail to reach the bridges.  The western bridge, Bob Leeper Bridge, connects to the McCracken County Trail loop (approximately 1.4 miles in length).  The eastern bridge (pictured) is on the trail toward Noble Park.
---
Tour the Floodwall Murals
Visit Paducah's thriving riverfront and take a self-guided tour of the Paducah Wall to Wall Murals along the concrete floodwall in downtown.  These works of art depict Paducah's  rich history in more than 60 life-sized panoramic murals by renowned artist Robert Dafford and the Dafford Murals Team.  Informational plaques are associated with each mural providing additional details about Paducah's history.
---
Walk the Riverfront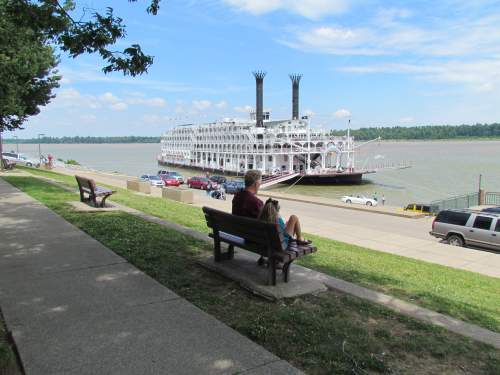 Enjoy Paducah by walking along the riverfront or enjoying some time taking in the beauty of the Ohio River and its river traffic.  Just upstream of Paducah is the confluence of the Tennessee and Ohio Rivers. 
---
Enjoy the Dogwood Trail
Delight in several miles of blooming dogwoods and flowering gardens as you travel through historic downtown, LowerTown and residential neighborhoods. Follow the signs in your own vehicle. Dogwood Trail is usually in April.  Visit Dogwood Trail for more information about the trail, awards, and related events.
---
Take an Audio Walking Tour of Downtown
Walk, listen, and experience Paducah's rich history as you walk around downtown.  Visit Audio Tour for a map of the places to visit.