Date of release:  August 31, 2021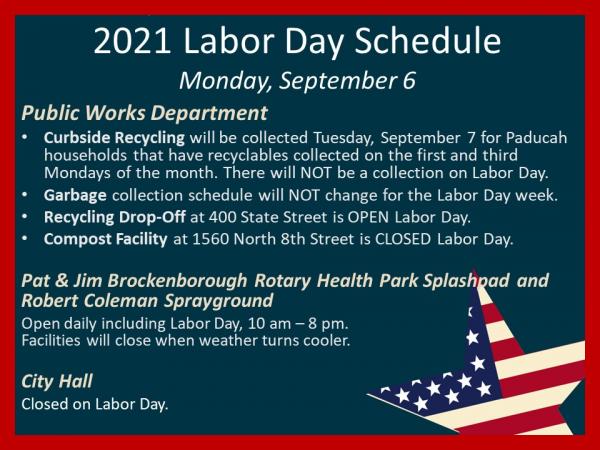 City Hall:  City Hall located at 300 South 5th Street will be closed Monday, September 6 for the Labor Day holiday.  
Sprayground and Splashpad:  The Robert Coleman Sprayground at the corner of Walter Jetton Boulevard and Husbands Street and the Splashpad at the Pat & Jim Brockenborough Rotary Health Park located at 421 North 13th Street are open daily 10 a.m. until 8 p.m. including Labor Day.  They will remain open daily until the weather turns cooler. 
Public Works Department:                                           
Curbside Recycling:  City crews will collect recyclables Tuesday, September 7 for Paducah households that have recyclables collected on the first and third Mondays of the month.  There will not be a collection on Labor Day, September 6.  To sign up for Paducah's curbside recycling program, contact the Public Works Department at 270-444-8511.
Compost Facility:  The Compost Facility located at 1560 North 8th Street will be closed on Labor Day.
Garbage Collection:  The garbage collection schedule will NOT change for the Labor Day week.
Recycling Drop-Off Facility:  The recycling drop-off facility operated by Green for Life (GFL) located at 400 State Street will be open Labor Day.  The facility is open Monday through Friday from 7 a.m. until 3:30 p.m. and Saturday from 8 a.m. until noon.  As part of the contract between the City of Paducah and GFL, there is no charge for the general public to drop off recyclables.
Cancelled Labor Day Parade:  Due to COVID-19 concerns, the West Kentucky Labor Day Parade Committee announced in August its decision to cancel the 2021 parade.  Committee Coordinator David Yates posted on Facebook, "After committee discussion, we've decided to cancel this year's parade and festivities. The health and well-being of our members, families, friends, and supporters, as well as the community is our priority. We will still have the raffle on Labor Day. We will try to do it live on Facebook. Thank you all for your support. We look forward to next year better than ever!"
###