Date of release:  September 1, 2022
City Hall  City Hall located at 300 South 5th Street will be closed Monday, September 5 for the Labor Day holiday.  
Sprayground and Splashpad  The Robert Coleman Sprayground at the corner of Walter Jetton Boulevard and Husbands Street and the Splashpad at the Pat & Jim Brockenborough Rotary Health Park located at 421 North 13th Street are open daily 10 a.m. until 8 p.m. including Labor Day.  They will remain open daily until the weather turns cooler. 
Public Works Department                           
Curbside Recycling  City crews will collect recyclables Tuesday, September 6 for Paducah households that have recyclables collected on the first and third Mondays of the month.  There will not be a collection on Labor Day, September 5.  To sign up for Paducah's curbside recycling program, contact the Public Works Department at 270-444-8511 or visit http://paducahky.gov/departments/public-works/curbside-recycling.
Compost Facility  The Compost Facility located at 1560 North 8th Street will be closed Labor Day.
Garbage Collection  The garbage collection schedule will NOT change for the Labor Day week.
Labor Day Parade  The Labor Day Parade conducted by the Western Kentucky Labor Day Committee will begin at 9:30 a.m. on Monday, September 5.  The theme of this year's parade is Organized Labor is the Core of America.  The parade will follow Broadway starting at 2nd Street and head west on Broadway until it disbands at Fountain Avenue (17th Street).  The parade route will close by 8:30 a.m. with the staging area for parade entries and surrounding streets closed at 6:30 a.m.  Streets will remain closed until the parade safely passes.  Labor Day festivities, which include food vendors, music, and activities for children, will continue from 11 a.m. until 4 p.m. at Carson Park.  For more information, visit the West Kentucky Labor Day Parade Facebook page.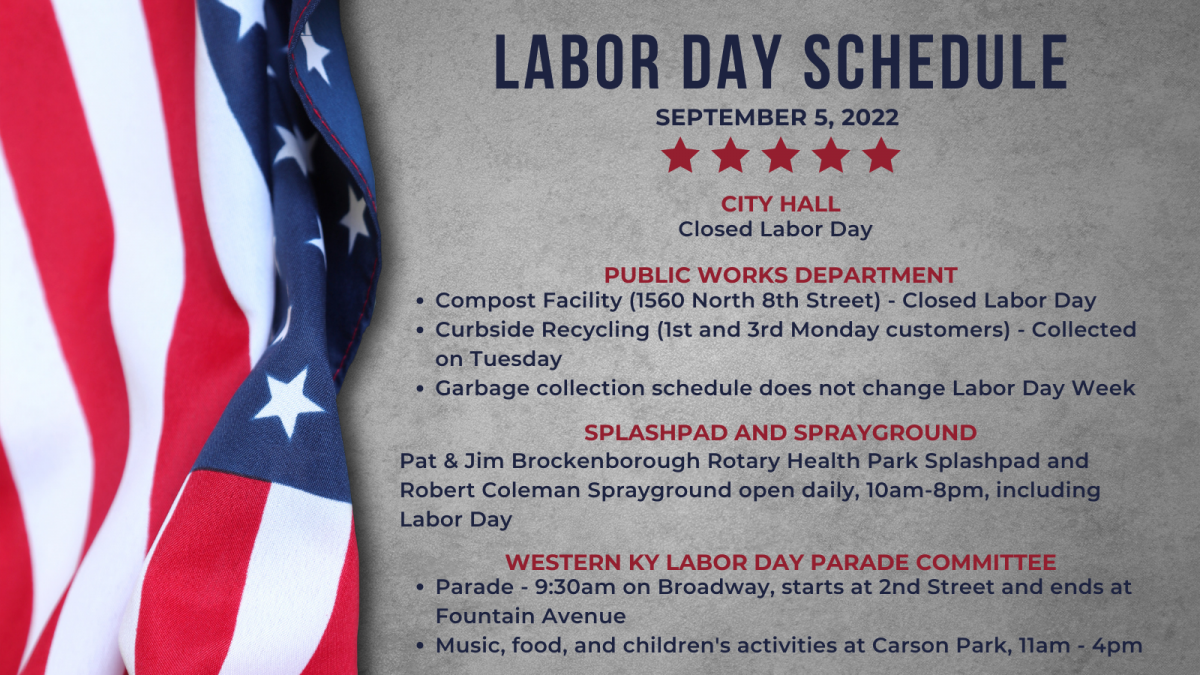 ###