Date of release:  October 22, 2020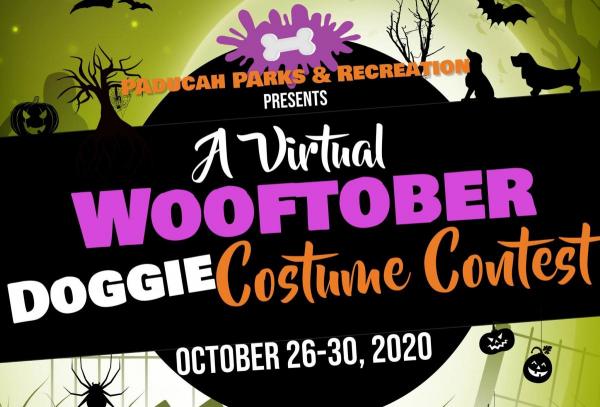 The Paducah Parks & Recreation Department is organizing a costume contest for canines.  From October 26 through October 30, participants in the Wooftober Doggie Costume Contest are encouraged to post a picture of their dog(s) in costume.  The winners will be announced the week after Halloween.
The guidelines are as follows:
To be entered for judging, photos must be posted to the Wooftober event page on the Paducah Parks Facebook page (https://www.facebook.com/events/1200947330265838). 
Each picture must have a caption stating which category it is being entered for judging.
Use #paducahparksbarks when posting the photo
The Wooftober Doggie Costume Contest has six entry categories:
Clowning Around (funniest costume)
Scaredy Cat (scariest costume)
Paws-itively Pup-tastic (most gorgeous costume)
Top Dog (best owner and dog costume combo)
Best Dog Team effort (more than two dogs all in costume)
Hotdogger Award (best overall costume)
This is the eighth year for the Parks & Recreation Department to hold Wooftober events.  For more information about Wooftober, contact Special Events Superintendent Molly Johnson at 270-444-8508.  Visit the Parks & Recreation Department online at www.paducahky.gov.
###