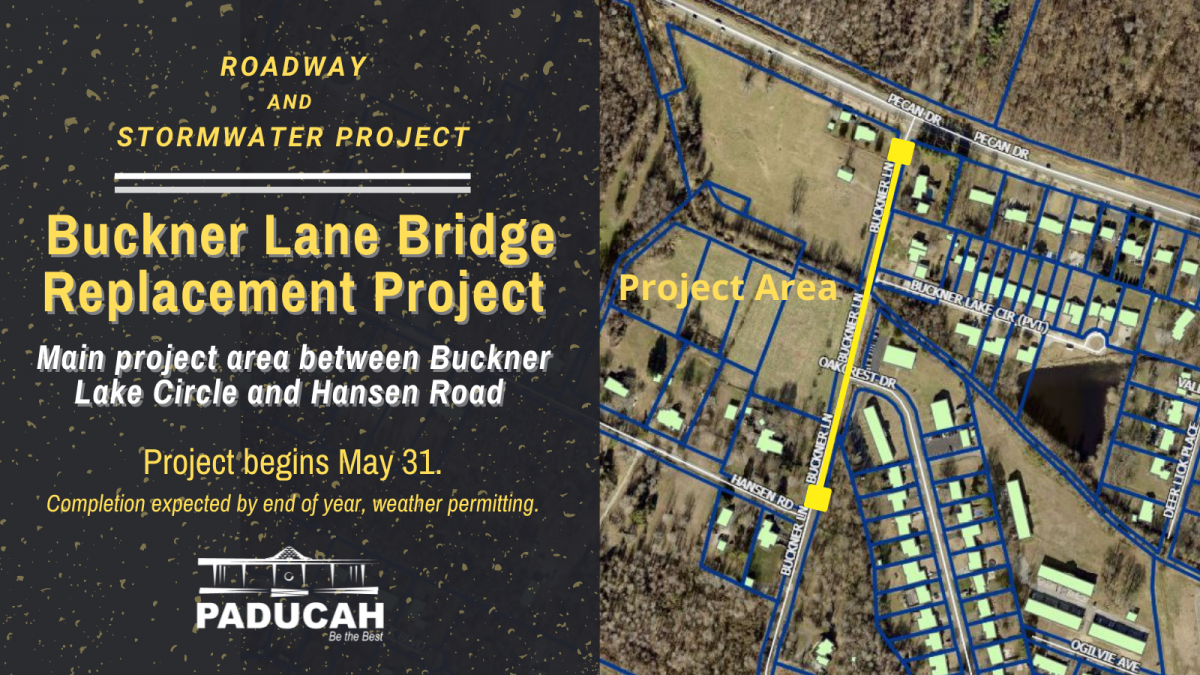 The City of Paducah has provided contractor Jim Smith Contracting, Inc., a notice to proceed for the Buckner Lane Bridge Replacement Project.  This comprehensive project improves the two-lane section of Buckner Lane between Hansen Road and Pecan Drive and replaces the dilapidated bridge that has been affected by flooding and severe weather events. 
The contractor will begin mobilizing equipment on Tuesday, May 31.  The project requires an extended closure of Buckner Lane Road between Hansen Road and Buckner Lake Circle for the staging of equipment including a crane and for the removal and replacement of the bridge and a culvert.  
Mayor George Bray said, "The Buckner Lane Bridge Replacement project was identified during the Comprehensive Stormwater Master Planning process. This major project is the first one using the American Rescue Plan Act (ARPA) funding that we set aside for stormwater.  With the various improvements to this quarter-mile section of Buckner Lane, residents will be able to see a significant reduction in the number of times that stormwater covers the road and encroaches on their property.  We have much left to do with stormwater, but this is certainly a good start."
The project includes the replacement of Buckner Lane bridge over Crooked Creek near the intersection with Buckner Lake Circle and the installation of a larger box culvert under Oakcrest Drive near the intersection with Buckner Lane.  This project will improve stormwater conditions in the area by reducing the number of times Crooked Creek comes out of its banks due to severe storm events. Also, the drainage ditch adjacent to Buckner Lane will be improved by lining it with concrete to reduce overgrowth and to enhance stormwater flow by improved efficiency. 
The last phase of the project will be improving the Buckner Lane roadway by increasing the lane widths, adding four-foot wide shoulders, and paving.  The entrance to Buckner Lake Circle also will be improved. 
City Engineer Rick Murphy said, "I ask for patience and understanding from the neighbors who live near this stretch of Buckner Lane.  We have a 240-day construction contract for this major project; however, once completed, the City's expectations are that the neighborhood will be pleased with the improved roadway and reduction in flooding during high rain events."
Weather permitting, the expectation is for the project to be completed in late 2022.
Following the flooding and severe weather events in 2018, the City received Federal Emergency Management Agency (FEMA) Disaster Relief Funding for the Buckner Lane bridge project.  FEMA has obligated nearly $330,000 in Public Assistance funding for the project with the State providing nearly $53,000.  The City also is using a portion of the $4 million in American Rescue Plan Act (ARPA) funding that the City set aside for stormwater projects.
###