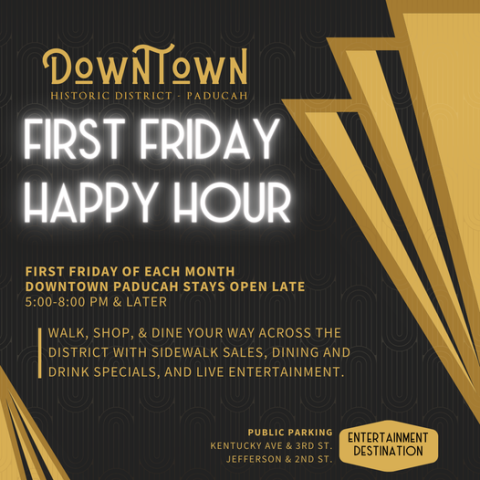 Ceremonial Toast and Ribbon Cutting on August 6 for Entertainment Destination Center
The community is invited to attend a ceremonial toast and ribbon cutting to celebrate the launch of Paducah's Entertainment Destination Center (EDC).  The event will be Friday, August 6 at 5 p.m. at the gazebo located at 2nd Street and Broadway.  Mayor George Bray will be giving the toast with City Manager Daron Jordan cutting the ribbon.  They will be joined by City officials, Paducah Main Street Board and Committee members, EDC sponsor Paducah Bank, participating EDC bars and restaurants, and more.
First Friday Happy Hour in Downtown Paducah - Support Local Businesses
Also, at 5 p.m. is the beginning of the First Friday Happy Hour in Downtown Paducah.  Between 5 and 8 p.m. on the first Friday of each month for the rest of this year, walk, shop, and dine your way across downtown Paducah with sidewalk sales, dining and drink specials, and live entertainment.
What is an EDC? 
In June, the Kentucky Department of Alcoholic Beverage Control approved Paducah's EDC.  The State-issued license allows customers to take to-go alcoholic drinks in designated cups from participating businesses.  The customers can then stroll our historic streets, browse the windows of local boutiques, enjoy the riverfront, and partake in outdoor events.  Paducah Bank sponsors Paducah's Entertainment Destination Center with the Paducah Bank logo proudly displayed on the to-go cups. 
Currently, there are 17 participating bars and restaurants in the EDC.  The EDC hours are daily from 6 a.m. until midnight.  Signs have been installed in downtown Paducah to assist patrons in locating the EDC boundary since alcoholic beverages are allowed only on public property within the district.
For a list of frequently asked questions and a map, visit Entertainment Destination Center.  
Date of release:  August 4, 2021