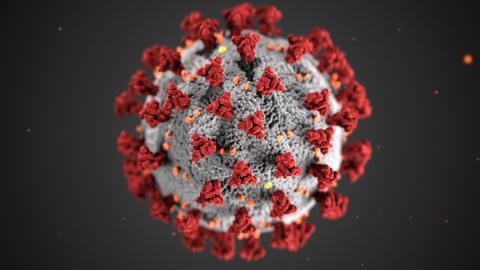 Prevention
The City of Paducah is closely monitoring the developments concerning the 2019 Coronavirus (also known at COVID-19).  The City of Paducah along with other organizations is participating in meetings organized by the McCracken County Emergency Management Department so that the most up-to-date information can be shared. 
Currently, there is no vaccine to prevent COVID-19.  The best way to prevent illness is to avoid exposure to the virus.  The Centers for Disease Control & Prevention (CDC) recommends preventive actions to help prevent the spread of respiratory diseases which includes COVID-19. 
Avoid close contact with people who are sick.

Avoid touching your eyes, nose, and mouth.

Stay home when you are sick.

Cover your cough or sneeze with a tissue, then throw the tissue in the trash.

Clean and disinfect frequently touched objects such as cell phone and surfaces using a regular household cleaning spray or wipe.

Wash your hands often with soap and water for at least 20 seconds especially after going to the bathroom; before eating; and after blowing your nose, coughing, or sneezing.  If soap and water are not readily available, use an alcohol-based hand sanitizer with at least 60% alcohol.
Resources
Centers for Disease Control & Prevention (COVID-19)
Kentucky Department of Public Health (COVID-19)
Kentucky has set up a hotline for concerned citizens at 1-800-722-5725.
Changes to City Services Based on COVID-19 - Effective Monday, March 16
Paducah City Hall:
Paducah's City Hall located at 300 South 5th Street will be closed to public walk-in foot traffic effective Monday, March 16 for at least two weeks in an effort to prevent the spread of the novel coronavirus (COVID-19).  City services will continue; however, those needing to contact the City should use other means including phone, email, or online.
As a reminder, the General Information phone number for City government is 270-444-8800.  During normal business hours, we have Customer Experience Representatives who will take your call and guide you to the appropriate department or service.  After hours, please leave a message.
Those needing to drop off a payment to the Finance Department can use the drop-box that is on the front of the 5th Street side of the building. 
If you need a permit through the Fire Prevention Division, call Fire Prevention at 270-444-8527.  Information will be taken over the phone with payments through the drop-box outside the building.  Permits then will be emailed to the permit holder.  Regarding plans that need to be reviewed, please send them digitally if possible.  Otherwise, contact the receiving department to make arrangements: Engineering at 270-444-8511; Planning at 270-8690; and Fire Prevention at 270-444-8527.
Paducah Police Department:
The Department will cease lobby service at 1400 Broadway. Citizens who come to the department with an emergency or who need to make a report should use the red telephone in the foyer area inside the front doors of the police department.  The red telephone connects directly with the E911 Communications Center.

The Records and Evidence units still will accept telephone inquiries; the number is 270-444-8554.  Citizens who need to acquire copies of collision reports should purchase them from www.buycrash.com.  To purchase copies of crime reports, visit www.buycrimes.com.  Open Records requests can be submitted via email to

atravispaducahky.gov

or by mail using the information contained at http://paducahky.gov/records-and-evidence.

Fingerprinting, taxi licensing, and prescription drug drop-off services are suspended until further notice.

The lobby of the Criminal Investigations Division, located at 1410 Broadway, also will be closed until further notice.  Citizens who wish to speak with a detective may call 270-444-8553.
Paducah Parks & Recreation Department:
The Parks & Recreation building located at 1400 H.C. Mathis Drive will be closed to the public.  Registration for spring and summer programs is available online at www.paducahky.gov or by calling 270-444-8508.   

The following classes, leagues, and operations are postponed until further notice:

Classes and operations at the Paducah Recreation Center located at 1527 Martin Luther King Junior Drive;

Martial Arts and dance classes held at the Parks Office Building located at 1400 H.C. Mathis Drive;

Youth and adult leagues practices and game schedules; and

Farmers' Market vendor meetings.

All facility reservations of parks picnic shelters, the Anna Baumer Building, Arts and Crafts Building, and Robert Cherry Civic Center are being cancelled through May 1. 

All public assembly permit application requests for events between March 13 and April 30 will not be permitted. 
City Hall and General City Administration:
All meetings of city-appointed boards and commissions are cancelled for March and April limited to Board of Adjustment, Paducah Civic Beautification Board, HARC, Human Rights Commission, Historic Property Redevelopment Board, Main Street Board, Planning Commission & URCDA, Nuisance Board, Tree Advisory Board, and the Building, Electrical, and Code Appeals Board.

The Paducah Citizens' Academy is suspended until further notice.

For citizens who have general questions on local resources, the Customer Experience Department will be able to provide guidance on local organizations and provide contact numbers.  To reach the Customer Experience Department, call 270-444-8800 during normal business hours, Monday through Friday.

Citizens who would like to drop off a payment to the Finance Department are encouraged to use the drop-box on the 5th Street side of City Hall.  Payments are processed the same day.