Update: American Express is no longer accepted.
Date of original release:  March 12, 2021
Credit and debit cards now accepted for in-person and over-the-phone payments in the Finance and Fire Prevention divisions of City Hall.
The City of Paducah is accepting credit and debit card payments at City Hall.  This service for in-person and over-the-phone payments provides a convenient way to pay for many of Paducah's fees and charges collected through the Finance Department and Fire Prevention Division in addition to the Engineering and Planning departments.
City Manager Jim Arndt said, "As we embrace our Customer Experience value, we always look for ways to improve the services we provide.  Our goal is to make doing business with the city as efficient and friendly as possible."
Services payable by credit or debit card include business licenses, property tax bills, building permits, fines, and liens.  A 2.95 percent service charge will apply on credit and debit card payments.  Payment types include American Express, Discover, MasterCard, and Visa.  The City does not charge or retain this service charge.  There is a $2.00 minimum per transaction.
Assistant City Manager Michelle Smolen has been leading the internal team working to improve and modernize Paducah's financial and permitting software and business practices.
Smolen said, "This will be an exciting year for the community as we roll out citizen self-service features.  The credit and debit card payment feature is the first step as we move toward offering a platform of digital services.  This year expect new online features including online bill payments, permits, electronic plan submissions, inspection scheduling, citizen self-service portal, and a citizen service request/reporting portal.
"Modernizing and rebuilding a City's software system has been a daunting task, but it has allowed us to collaborate and make critical decisions for our customers, the citizens.  Our goal is to put the citizen at the forefront.  I'm proud of the internal team that has put in long days focusing on the software, and I'm anxious to announce the launch of more features for citizens."
Fire Chief Steve Kyle said, "I'm one of the original committee members working since February 2014 on this multi-phase City-wide software project.  Several internal components have been launched, and credit and debit card payment access is the first public-facing piece.  I'm excited about our upcoming online presence and all of the payment options and community development programs that will be available to citizens at the push of a button."
To view a list of services and features currently available through the City's website, visit http://paducahky.gov/online-services.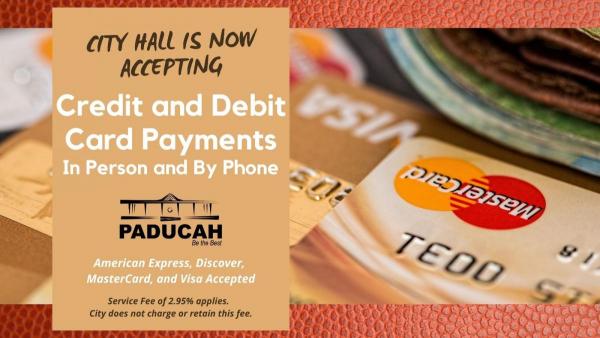 ###
Date of release:  March 12, 2021