Date of release:  December 10, 2020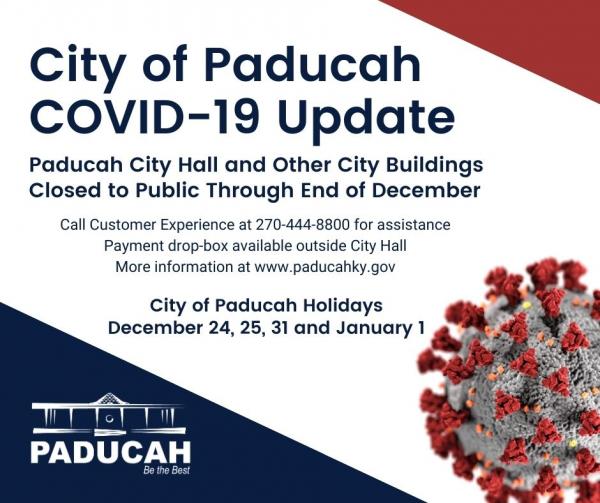 Paducah's City Hall located at 300 South 5th Street and other City buildings will continue to be closed to the public through the end of December.  The City is monitoring the status of COVID-19 in McCracken County.  If the County falls out of the red zone or if the number of cases is trending downward, the plan is to reopen City Hall and other buildings to the public on Monday, January 4.
City Manager Jim Arndt said, "By keeping the City facilities closed to the public, we seek to keep our employees who are working in the facilities and the public safe and healthy.  The City's team of employees has been maintaining service delivery through virtual meetings, phone calls, emails, and online. Our citizens and employees are at the forefront of our operations.  Thankfully, we are still able to provide exceptional customer service even with the absence of in-person visits to our buildings."
In addition to City Hall, City of Paducah facilities including the lobby of the Paducah Police Department, fire stations, Public Works Department lobby, and the Parks & Recreation Department offices are closed to the public. These facilities have been closed to the public since November 20 based upon the directives in Kentucky Governor Andy Beshear's Executive Order 2020-068. 
Arndt adds, "Please continue all of your efforts to slow the spread of the virus.  Be thoughtful about how you hold holiday gatherings.  Protect each other by wearing masks, washing our hands, and maintaining appropriate distance.  With vaccine distribution expected over the next few weeks and months, this is not the time to relax our efforts to control the virus."
City of Paducah holidays are December 24, 25, 31, and January 1.
Below are a few ways to contact City government:
Property tax payments still are being collected.  For those who don't want to mail the payment to the Finance Department, please use the drop-box on the front of the 5th Street side of City Hall to drop off your check or money order.
The general information phone number for City government is 270-444-8800.  During normal business hours, Customer Experience Representatives take calls and assist in reaching the appropriate department or service.  After hours, please leave a message.
If you need a permit through the Fire Prevention Division, call Fire Prevention at 270-444-8527.  Information will be taken over the phone with payments through the drop-box outside the building.  Permits then will be emailed to the permit holder.  Regarding plans that need to be reviewed, please send them digitally if possible.  Otherwise, contact the receiving department to make arrangements: Engineering at 270-444-8511; Planning at 270-444-8690; and Fire Prevention at 270-444-8527.
A variety of information and contact emails can be found on the City's website, www.paducahky.gov.
###