Date of release:  April 21, 2020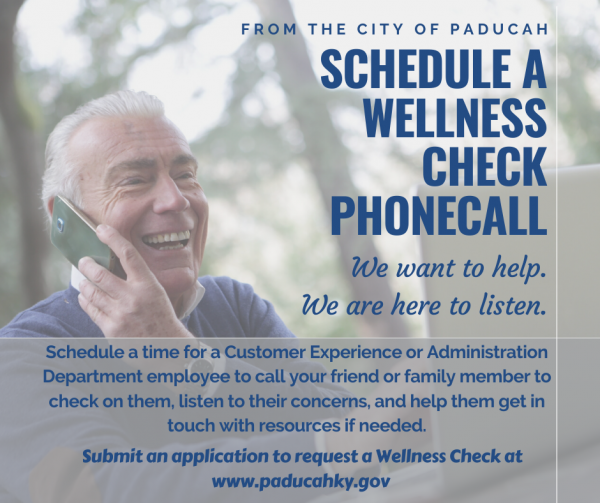 The City of Paducah has created a COVID-19 Wellness Check Program for people to submit applications for wellness calls to be made to City residents.  Within three days after receiving a Wellness Check Application, city employees in the Customer Experience and Administration departments will call the resident.
Mayor Brandi Harless says, "Several years ago, during the ice storm, the City's Police and Fire departments went door to door in many areas checking on residents.  This pandemic is a bit different. The need for social distancing has caused us to rely on technology to check on each other rather than with in-person visits.  I know that many churches and agencies including the Paducah-McCracken County Senior Center are calling their congregations and participants.  The City of Paducah wants to do our part to help."
City Clerk/Customer Experience Director Lindsay Parish worked to coordinate the application and the team of employees who will be available to make dozens of calls each day.
Parish says, "I know that there are people in this community who are hurting, isolated, and feeling anxiety due to this crisis.  We want to be that listening ear and friendly voice to help them through this time.  Plus, we want to be able to connect them with resources, if necessary.  I'm honored to be part of this process to make sure our citizens know how much we care."  
"The Paducah-McCracken County Senior Center was an invaluable partner as we developed this program. They offer a similar program year-round to Senior Center members, and it was great to learn from them and partner together to create this resource for all Paducah citizens," adds Parish.
Wellness Checks are offered for time periods Monday through Friday from 8 a.m. until 4 p.m.   Checks can be daily on the weekdays or once per week on Mondays.  This is a temporary, free service offered by the City of Paducah.
###