Date of release:  August 30, 2021
As Paducah partners with the U.S. Army Corps of Engineers for the rehabilitation of Paducah's floodwall, the work has been affecting access to short segments of the Greenway Trail.  The two floodwall pump station projects currently underway will be wrapping up soon allowing the Greenway Trail segments to reopen in mid-October.  Work will then move to a third pump station project located in Noble Park.
Mayor George Bray said, "I understand the frustration in having short segments of our beautiful Greenway Trail closed.  As an avid cyclist, I use the trail often, and the closures lead to my seeking out another route.  However, Paducah is investing in its public safety infrastructure by rehabilitating the components of our 75-year-old floodwall.  I respectfully ask for the public to be patient as we complete these projects that are important to Paducah and McCracken County's property and safety." 
IN PROGRESS - Construction of New Pump Station - Since May, a contractor has been working to install discharge pipes associated with the construction of a new floodwall pump station.  This work requires the closure of the Greenway Trail between mile markers 2.7 and 2.9 behind the Smoke Shop (2300 North 8th Street).  This section of Greenway Trail is expected to reopen by October 18, weather-permitting.
IN PROGRESS - Rehabilitation of Pump Station No. 2 – The project to rehabilitate Pump Station No. 2, the station with the largest pumping capacity, will be in its final construction stages allowing the adjacent section of Greenway Trail to reopen by October 18, weather permitting.  This pump station is located at 1416 North 6th Street near the Ohio River Boat Launch. 
FUTURE - Rehabilitation of Pump Station No. 1 – Once the new pump station project is nearing completion, crews will begin the project to replace the discharge pipes at Pump Station No. 1.  This pump station is located in Anna Baumer Field at Noble Park.  Once that project begins, which could be later this year, a segment of the concrete portion of the Greenway Trail in Noble Park between the skatepark and the Cairo Road crossing will be closed to the public for six to eight weeks.
City Engineer Rick Murphy said, "The floodwall is a critical piece of public infrastructure.  This rehabilitation project has taken more than 23 years to coordinate with the Corps of Engineers, and I'm thrilled that the work is underway to keep the floodwall system in an operationally dependable state so that it can continue its function as a protector of City and County properties.  I ask for the public's patience since access to the Greenway Trail is limited in certain sections."
Paducah's floodwall system protects more than $1.2 billion of property assets.
Paducah's Greenway Trail spans more than 5 miles.  It extends from downtown Paducah, follows the floodwall levee to Noble Park, and continues on a gravel trail through Stuart Nelson Park where it connects to McCracken County's 1.5 mile trail loop using the Bob Leeper Pedestrian Bridge.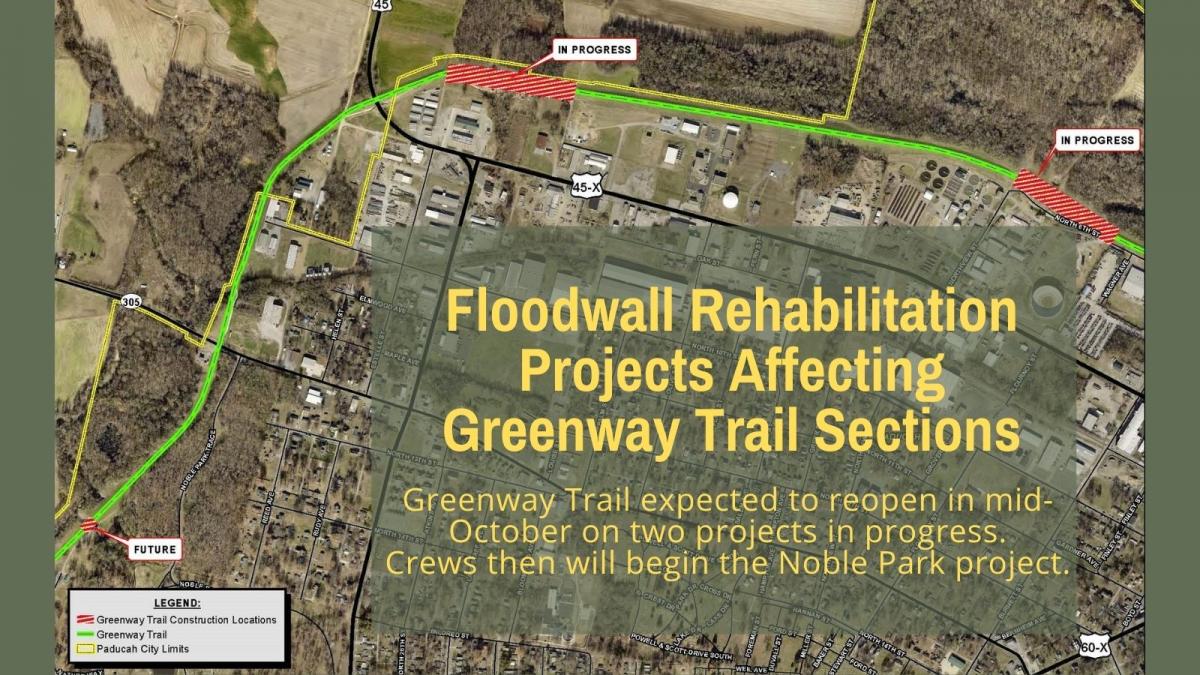 ###