Date of release:  June 4, 2020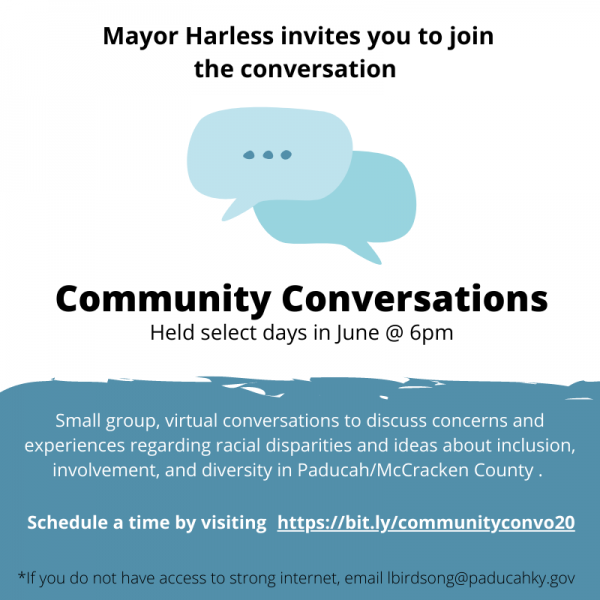 Community Conversations are small group discussions in Paducah/McCracken County which will be conducted as virtual meetings to discuss concerns and experiences regarding racial disparities in addition to ideas about inclusion, involvement, and diversity in Paducah/McCracken County.
"At this time when our community cries out for change, the next steps must involve all of us. I've spent a lot of my time as Mayor listening. But my perspective is limited because I am white. I've done my best and tried to have these conversations through the years, but if people of color still don't feel heard, that's my responsibility not theirs," said Mayor Harless.
"Across the country and the world, groups are gathering just to be heard. I want to provide a structured, thoughtful way for members of the Paducah community to engage with each other and truly listen so that together we can identify ways to strengthen our resolve to be a city committed to equality and inclusion which ultimately leads to growth and success."
Each virtual meeting will be co-facilitated by a community leader.  These individuals have agreed to participate in the conversations.  In addition, members of the Paducah City Commission and McCracken County Judge Executive Craig Clymer have been invited to listen and participate in the sessions to provide input and gain a better understanding of the diverse needs of Paducah/McCracken County and its citizens.  Due to open meetings laws, only one commissioner will be present on each call. The meetings will be small groups of no more than ten participants and will be held at 6 p.m. on the following dates: June 10-12, June 15-19, June 22, June 25-26, and June 29-30.
Mayor Harless adds, "We need clear steps and actions so that we can improve our systems and build stronger relationships.  I think people are often reluctant to talk to those of us in positions within government.  I hope these efforts will open the door much wider to let more people in and have their voice heard."
"What we discuss with the community over the next few weeks will be crucial as we work with local diversity and inclusion groups, community and faith leaders, and the City of Paducah in the development of an action plan that works to tear down structural racism locally. This community deserves nothing less. I hope one day we will have these issues resolved in our community. But until then, we must keep working."
To sign up for one of time slots for Community Conversations, visit https://www.signupgenius.com/go/409044aaeab2da3fc1-join.  Due to the coronavirus pandemic, these meetings will be held virtually.  However, if internet accessibility is a problem, please reach out to Lyndsey Birdsong at lbirdsongpaducahky.gov.
###