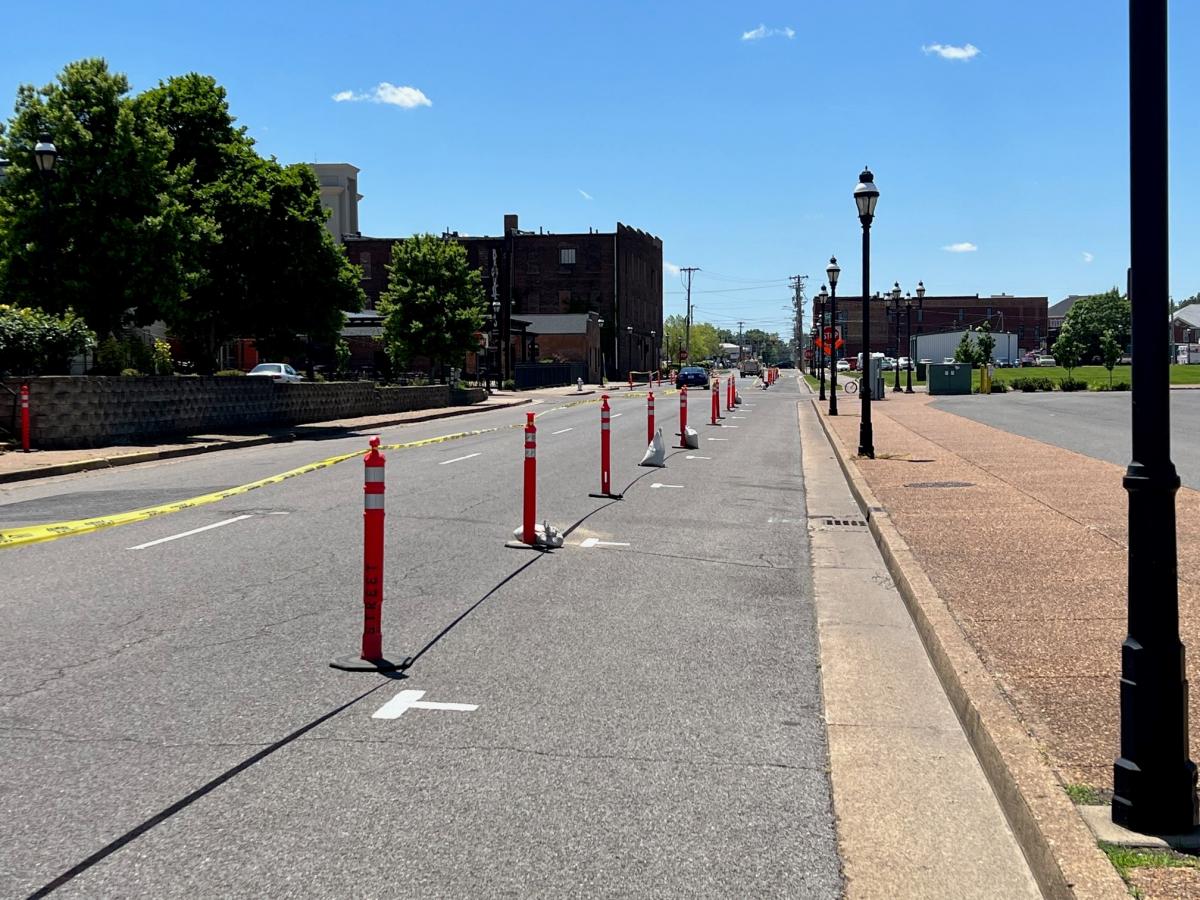 Photo:  Photo taken on Monday of Jefferson Street looking toward 3rd Street showing the newly marked on-street parking.  Now that the paint is dry, the barricades have been removed.
More than 30 on-street parking spaces have been added to Jefferson Street in downtown Paducah.  On Monday, Floodwall Division crews with the City of Paducah Engineering Department marked 32 parking spaces on Jefferson between Water Street and 3rd Street.  The paint is dry, and they are ready for use.
City Manager Daron Jordan said, "Jefferson Street is wide enough to provide two lanes of traffic and on-street parking.  However, without the actual paint on the asphalt, many people didn't realize that they could park on Jefferson.  This location is accessible to the riverfront, National Quilt Museum, Farmers' Market, and a variety of downtown restaurants and merchants."
Jordan added that marking these parking spaces will be convenient for the public when private developer Weyland Ventures breaks ground on the City Block project this summer.  For safety during the construction period, the entire parking lot bounded by 2nd Street, Broadway, Water Street, and Jefferson Street will be not be accessible to the public. 
Mayor George Bray said, "The City of Paducah realizes that people are concerned about parking convenience as the City Block project unfolds. We are committed to better signage for current parking availability as well as exploring all other options to make parking as accessible as possible. We understand and appreciate the adjustment that all of us will be making in order to preserve and expand the wonderful downtown that our community enjoys."
City Block will revitalize a block of downtown Paducah with the construction of a boutique hotel along Jefferson Street, a public promenade, green space, parking improvements with more than 150 public parking spaces, and a mixed-use building on Broadway.
Paducah Planning Director Nic Hutchison said, "The city is excited to see the City Block project continue to move forward, and the additional on-street parking helps highlight the parking capacity that exists downtown. The delineation of these parking spaces is a part of our parking management strategy to assist as downtown grows and transforms."