Last night at the Kentucky Recreation & Parks Society's (KRPS) annual conference held this year in Bowling Green, KRPS honored the Paducah-McCracken County Tennessee RiverLine program with the Outstanding Program Award – Class 4 for its free paddling events.
Monthly from June through October, the community could register for a single or tandem kayak for a river experience of nearly five miles. These free kayak adventures launched from Clarks River Landing with paddlers enjoying the Clarks River and Tennessee River and ending at the Foot of Broadway on the Ohio River in downtown Paducah. Transportation for participants to the launch area was provided by Lone Oak First Baptist Church and Paducah's Planning Department. Those who had their own canoes or kayaks also could register for the free event and benefit from the transportation to the launch area.
The Paducah-McCracken County Tennessee RiverLine program is a partnership among the Tennessee RiverLine organization, the City of Paducah, McCracken County, and local partner agencies. The Paducah Parks & Recreation Department helped facilitate the paddling events by coordinating the registration process and promoting the events on social media.
Paducah Parks & Recreation Director Amie Clark said, "We were honored to assist with the Tennessee RiverLine paddling experiences since they align perfectly with our mission of providing an affordable and positive comprehensive system of recreation programs. These free paddling events bring experienced and beginner kayakers together and help eliminate the intimidation that can be present in using our local waterways for recreational experiences. Paducah Parks & Recreation strives to promote a healthy lifestyle, both mentally and physically, which makes this partnership with the Paducah-McCracken County Tennessee RiverLine extremely rewarding."
Paducah-McCracken County Tennessee RiverLine received a fleet of 12 kayaks in May 2021 from the University of Tennessee. This is the third consecutive year for Paducah-McCracken County to offer the free paddling experiences.
Tennessee RiverLine is a vision for a 652-mile system of continuous paddling, hiking, and biking experiences reaching the full length of the Tennessee River from Knoxville, Tennessee, to Paducah. 
Back Row: Assistant Director of Parks Jared Marsden, Paducah Planning Director Nic Hutchison, and Recreation Superintendent Taylor Morsching
Front Row: Director of Parks & Recreation Amie Clark, Assistant Director of Recreation Suzanne Davidson, Jeff Canter representing Paducah-McCracken County Tennessee RiverLine, Recreation Specialist Kennedy Kirks, and McCracken County Community Development Project Manager Steve Ervin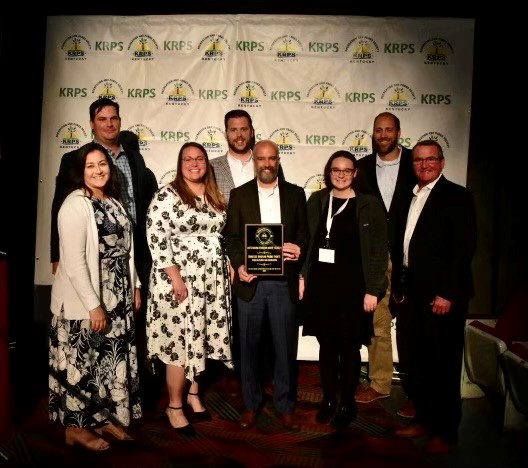 ###