Date of release:  November 5, 2020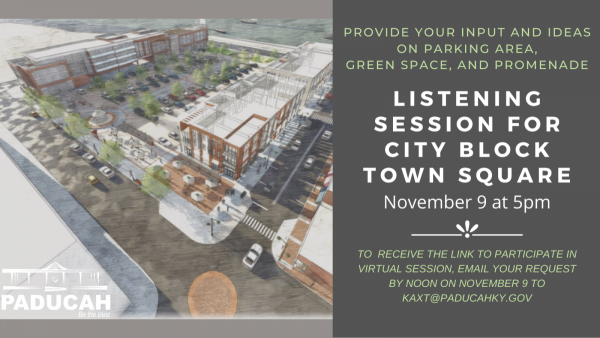 The community is invited to provide input regarding the public spaces that are outlined in the City Block Project.  This private investment of approximately $21 million in Paducah's downtown by Weyland Ventures includes a multi-use development on the parcel bounded by Broadway, 2nd Street, Jefferson Street, and Water Street.  The center of the parcel would be designed as a Town Square which includes off-street public parking, new green space, and a promenade.  A boutique hotel is planned for the section facing Jefferson Street with a mixed-use development facing Broadway. 
Paducah Main Street Director Katie Axt said, "The design team at Weyland Ventures is working to gather input and feedback on how the community would like to see this public space activated.  During this listening session, the team will be asking questions and guiding discussions to learn more about how the public will use and enjoy this Town Square."
To participate in the listening session for the Town Square portion of the City Block project, which will be held virtually on Monday, November 9 at 5 p.m., please email your request to participate to Axt by noon on November 9.  Axt can be reached at kaxtpaducahky.gov.  Once your emailed request is received, a link to the virtual session will be provided.
If you are unable to participate in the virtual session, the listening session will be recorded and provided on the City's website at http://paducahky.gov/downtown-redevelopment.  The public can submit comments on the Town Square to kaxtpaducahky.gov between November 9 and November 16.
In August, the City approved a development agreement with Weyland Ventures Development for the City Block project.  
###