Date of release: August 30, 2022
Mayor George Bray invites elementary students to share what they find to be beautiful in Paducah or how they will help make their community beautiful.
The City of Paducah in partnership with Kentucky League of Cities (KLC) is celebrating September as City Government Month in Kentucky.  This celebration recognizes the important role cities play in building Kentucky's economy and improving the quality of life for citizens. 
Elementary schools are encouraged to participate by educating students about their city government and city services and how to engage with their community.  Mayor George Bray is inviting elementary students who are homeschooled or attend a school located in Paducah or McCracken County to draw pictures or write letters.  Please make sure the student's name, school, teacher, and grade are included on each drawing and letter.
K-2nd Grade - Students in kindergarten through second grade are asked to draw a picture of something beautiful in Paducah.
3rd-5th Grade - Students in third through fifth grade are asked to write a letter to Mayor Bray.  Each letter should begin with the following phrase: I will help make my community beautiful by…
Feel free to use the following templates:
Template for Picture Drawing (K-2nd grade)
Template for Letter Writing (3rd-5th grade)
"Being a good citizen is tied to being active in the community and aware of how you can make a difference, big or small, said Mayor Bray.  "Encouraging good citizenship at a young age is critical in building a life-long appreciation and stewardship of our community.  This year, the City Commission selected Beautification as one of its priorities.  I look forward to seeing the pictures from the younger students of what they find to be beautiful in Paducah.  Plus, I am really interested in hearing the ideas of how they can help make Paducah even more beautiful." 
The deadline to submit a picture or letter is September 30.  In October, Mayor Bray will share several of the letters and pictures on an episode of Your City at Work.  Pictures and letters can be emailed to citygovmonthpaducahky.gov or mailed to
Paducah City Hall
300 South 5th Street
P.O. Box 2267
Paducah, KY  42002-2267
Paducah will be issuing a proclamation for City Government Month at the September 13 meeting of the Board of Commissioners. 
An educational curriculum which includes lesson plans and an activity booklet can be found at City Government Month - Teacher Resources.  The items feature the MunciPals, the City Government Month mascots.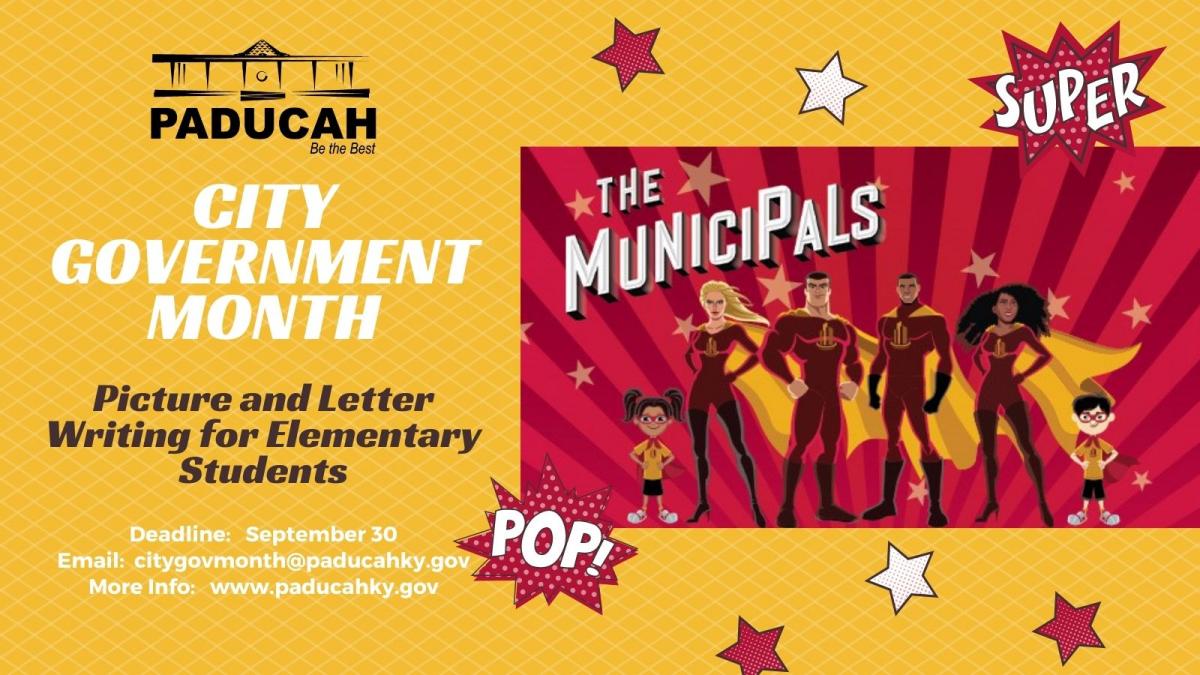 ###