Date of release:  August 3, 2021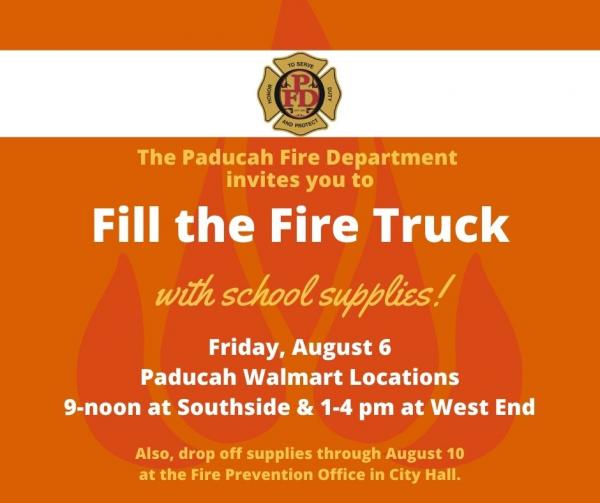 The Paducah Fire Department invites everyone to help local students through the Fill the Fire Truck with School Supplies campaign.  On Friday, August 6, Paducah firefighters will be collecting school supply donations at the Southside Walmart (3220 Irvin Cobb Drive) from 9 until noon and at the West End Walmart (5130 Hinkleville Drive) from 1 until 4 p.m. 
Donations also will be accepted through August 10 at the Fire Prevention Division office on the first floor of City Hall located at 300 South 5th Street.  The school supplies will be donated to schools located within the Paducah city limits.
Deputy Fire Marshal April Tinsman coordinates Fill the Fire Truck.  Tinsman said, "School supplies and individually wrapped food items can greatly impact the success and well-being of our local students.  Helping collect these items is one way that the Paducah Fire Department can show our investment in the Paducah community.  Every donation is greatly appreciated."
Below are suggested school supply items:
Yellow #2 Pencils, Erasers, Black or Blue Ink Pens
Plastic School Box
Plastic Pocket Folders
Composition Notebooks
Loose Leaf Notebook paper
Spiral Notebooks
Highlighters
Graph Paper
Protractor
Three-ring binders
Glue Sticks
Divider Tabs
Printer Paper Reams
Flash Drives
Backpacks
Clipboards
Rulers
Earbuds (with cord)
Individually wrapped food including fruit snacks, tuna salad kits, peanut butter or cheese crackers, potato chips, applesauce and fruit cups, Pop Tarts, and granola bars.
###