Date of release: December 9, 2020 (updated event time on December 14, 2020)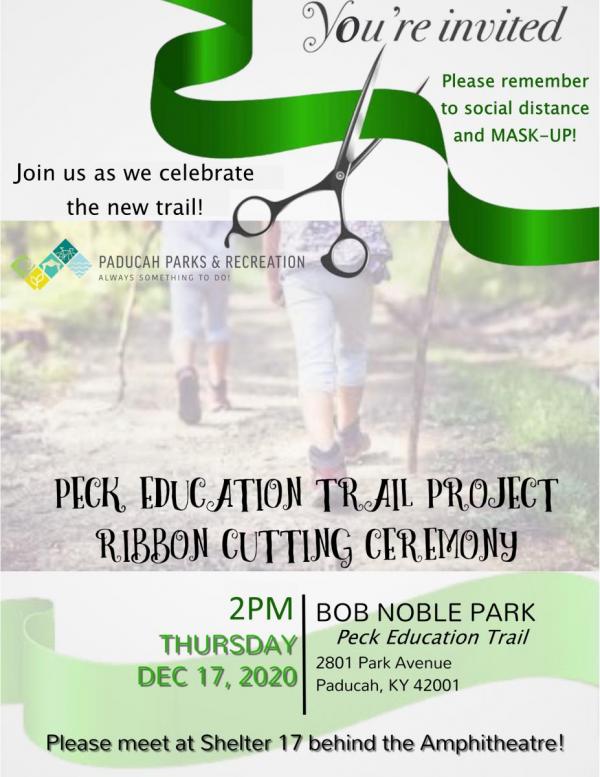 The public is invited to a ribbon cutting celebration on Thursday, December 17 at 2 p.m. for the Peck Education Trail in Bob Noble Park.  Please note the time change for this event.  It has been moved to the afternoon due to the funeral services for former City Commissioner Robert Coleman and his wife, Connie, which will be earlier that day.
The trail addition is in the wooded area next to the existing nature trail and the Cairo Road park entrance. To celebrate with the City, meet at Shelter 17 located behind the Amphitheatre.  Attendees are asked to wear facial coverings and maintain social distancing during the celebration.    
Parks & Recreation Department Director Mark Thompson, who is retiring this month, said, "I'm thrilled to end my two decades of service with the City with a ribbon cutting for a wonderful addition to Noble Park.  It is a true honor to be able to carry out Mr. J. Lane Peck's vision for an area that will add to the natural aspect of the park and the educational possibilities. After the passing of Mr. Peck, the Peck family has been wonderful to work with."
The Peck Education Trail is more than a half mile in length.  It connects to the existing nature trail located in a wooded section of the park behind the Amphitheatre.  To give the community information about local ecology and habitats, the trail provides the perfect opportunity to label trees, fauna, and nature areas.  Parking has been added off Noble Park Trace, the road that enters the park from Cairo Road. Additionally, the Children's Memorial Garden honoring the children killed in the 1995 Oklahoma City Federal Building bombing will be relocated to the Peck Education Trail along with 19 new dogwoods. 
The construction of the Peck Education Trail began October 1.  In September, the Paducah Board of Commissioners approved a contract with Youngblood Excavating & Contracting for the project.  This project is funded entirely by the estate of J. Lane Peck through the Community Foundation of West Kentucky. 
###