Date of release:  June 5, 2020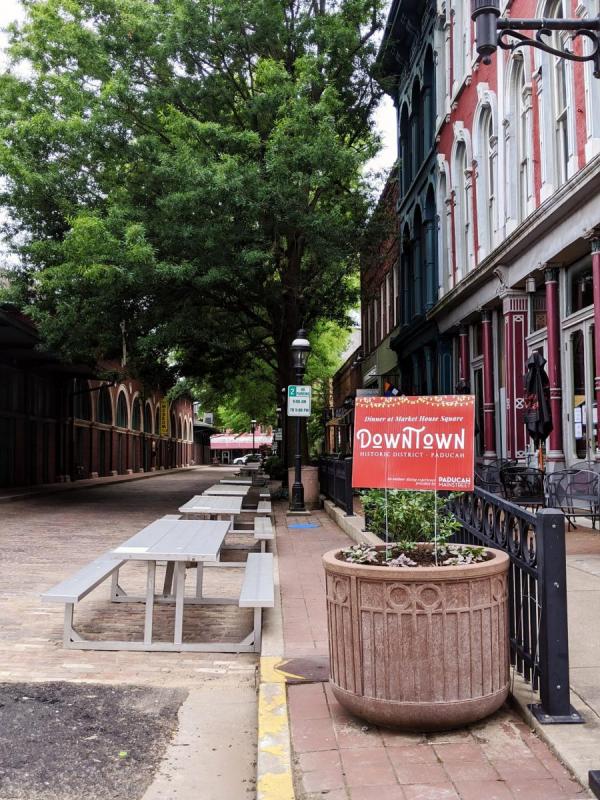 Since May 22, the City of Paducah has been closing the east and west sides of Market Square to vehicular traffic from 3 p.m. on Friday through 8 a.m. on Monday to allow the expansion of outdoor seating for restaurants along Market Square.  The City has provided approximately 25 picnic tables for use by the designated restaurants.  After receiving positive feedback from the community and the downtown businesses, the City has decided to expand the closure period and keep the Market Square roadways closed seven days a week through the Labor Day weekend.  This is a pilot project to determine if a permanent closure of the roadways to vehicular traffic should be implemented.
City Manager Jim Arndt said, "Over the next several weeks as restaurants are allowed to resume their indoor seating capacity as provided through the Healthy at Work guidelines from the State of Kentucky, we will ask the restaurants and businesses in Market Square if they think the roadway closures and expanded outdoor seating should become permanent."
"Since the picnic tables have been downtown each day of the week and used by customers even when traffic has been allowed to pass, the daily road closures will increase the safety of the diners who are enjoying the outdoor atmosphere by distancing vehicular traffic from the dining experience," added Arndt. 
###