Date of release:  November 4, 2020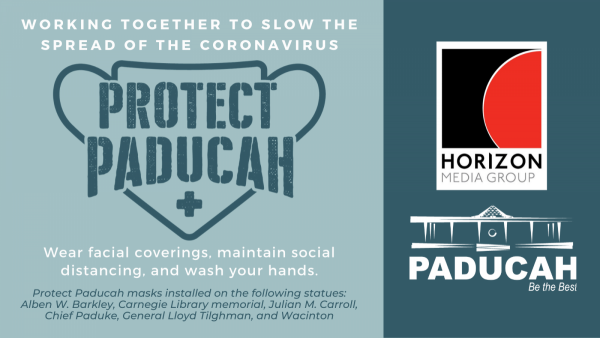 PADUCAH – Horizon Media Group and the City of Paducah are partnering to encourage citizens to wear facial coverings when in public to slow the spread of COVID-19.  Horizon Media Group approached the City with an idea to promote the wearing of facial coverings by creating Protect Paducah masks for several statues in the city.  Horizon Media is donating its services for the creation and installation of the masks.  Masks will be installed on various statues today. 
Horizon Media Group Creative Director John Benjamin said, "It occurred to us here at Horizon Media Group that we could do something positive for Paducah during all the craziness. We feel that masks can have a huge impact on curbing the coronavirus."
Benjamin added, "We chose to donate the work because we believe in how effective masks can be, and if we can help bring attention to the collective goal of getting everyone wearing masks then it's a no-brainer. Protecting Paducah can be as simple as wearing a mask. It's not that big an ask."
Parks & Recreation Department Director Mark Thompson said, "It's terrific to partner with local businesses like Horizon Media.  John Benjamin and the innovative crew at Horizon came up with this public safety message encouraging Paducah to wear masks.  We were happy to say yes and do our part to promote the health and wellness of our community."
The statues receiving Protect Paducah facial coverings are as follows:
Alben W. Barkley and Julian M. Carroll memorials in the lobby of City Hall at 300 South 5th Street;
Carnegie Library memorial in memory of Oscar Turner located in the median of Jefferson Street near 24th Street;
Chief Paduke statue in the median of Jefferson Street near 19th Street;
General Lloyd Tilghman statue in Lang Park at 350 Fountain Avenue; and
Wacinton sculpture in Noble Park near the tennis courts.
###