Date of release:  October 6, 2020
Registration Underway for Creative Business Bootcamp
Virtual Workshop to be Held November 5-6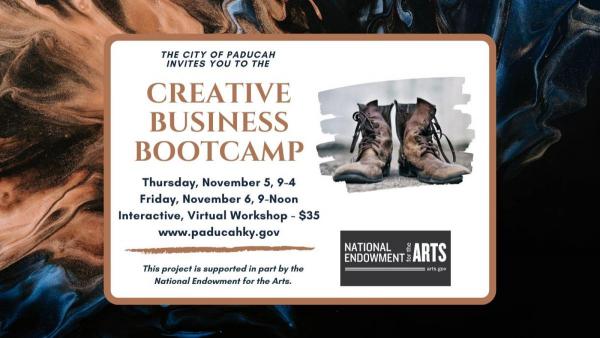 The City of Paducah with funding support in part by the National Endowment for the Arts is holding a Creative Business Bootcamp.  This interactive, virtual workshop will be Thursday, November 5 from 9 a.m. until 4 p.m. and Friday, November 6 from 9 a.m. until noon. The registration deadline is Wednesday, October 28 at 4 p.m.
Creative Entrepreneur, Artist, and Educator Jennifer Reis will lead this workshop focused on helping creatives, makers, artists, and entrepreneurs design and grow their creative businesses.  Attendees will learn about business modeling, action planning, brand marketing, e-commerce, and customer segments. Plus, local attorney Cody Walls with the Denton Law Firm will provide information about legal frameworks and taxation laws related to creative businesses. 
City Clerk/Customer Experience Department Director Lindsay Parish worked to organize this workshop.  Parish says, "This workshop is a bootcamp for those with creative mindsets who want to grow their brand, launch a new business, or navigate the complicated market in 2020 and beyond.  In the span of these two days, attendees will learn a variety of vital business topics that will help them set the foundation for business success."
The topics that will be covered in the Creative Business Workshop include
Venture Inventory, Group Share & SWOT Analysis
Intro to Business Modeling with the Business Model Canvas
Value Propositions
Customer Segments
Branding/Marketing
Venture Statements & Action Planning
Return to the Business Model Canvas - Diversifying Revenue Streams for your Avatar
Pricing/Selling
Intro to E-Commerce
Business Legal Frameworks, Financial Planning and Taxation
Small Business Resources, Logistics and Technical Assistance Panel
The cost to attend the virtual workshop is $35.  To register, visit https://www.eventbrite.com/e/creative-business-bootcamp-registration-123041675965.  If you have a question or need assistance with the fee or access to a computer with audio and webcam, contact the Customer Experience Department at customerexppaducahky.gov or 270-444-8506.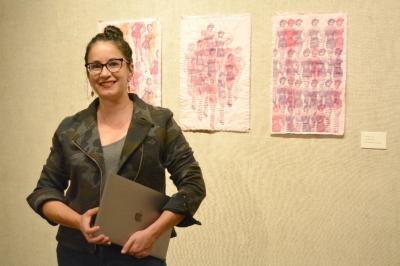 About Jennifer Reis:  Jennifer A. Reis is a creative entrepreneur, artist, educator, and gallery director with 25 years of experience in arts business and administration.  Her degrees include a BFA from Columbus College of Art and Design and master's degrees in arts management and education from Syracuse University and Morehead State University. For nearly two decades as a higher education educator and administrator, she developed academic programs in arts administration, arts entrepreneurship, and design thinking. Her curatorial work includes more than 100 exhibitions of contemporary art and craft.  She is a consultant for community and economic development, trade, and cultural and educational organizations.  Reis designs, manages, and delivers creative entrepreneurship curriculum through her company Make Do.  Her work has been presented at the Deshpande Symposium on Innovation & Entrepreneurship in Higher Education, Society for Arts Entrepreneurship Association's Annual Conference, Kentucky Arts Council's Creative Industry Summit, and the Association for Creative Industries annual "Creativation" tradeshow. As a teaching artist, she exhibits and hosts workshops nationally at schools such as Arrowmont School of Arts & Crafts, Society for Contemporary Craft, and John C. Campbell Folk School.
About Cody Walls:  Cody Walls, a Paducah native, is a 2007 graduate of Murray State University with a degree in accounting.  He continued his education at Murray State with a Master's in Business Administration.  After eight years of practicing accounting and gaining vital experience in preparing tax returns, completing audits, and compiling financial statements, Walls furthered his education with a Juris Doctor degree from Southern Illinois School of Law.  During his time at Southern Illinois School of Law, Walls worked as a Staff Member and Note Editor on the Law Journal. Walls is now employed with the Denton Law Firm as an Associate Attorney focusing on taxation, estate, and probate law.
###