Date of release:  July 2, 2020
Photo:  Sign for Boundless Playground at Noble Park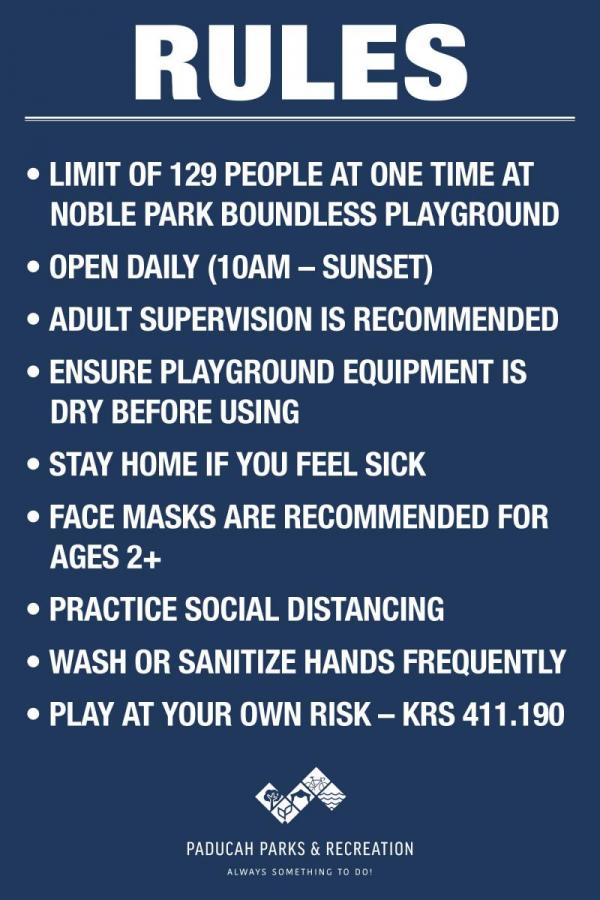 The Paducah Parks & Recreation Department will be reopening playgrounds in Paducah's parks on Friday, July 3.  This also includes the reopening of the fitness equipment area at the Pat & Jim Brockenborough Rotary Health Park. 
The playgrounds have been closed to the public since the middle of March in an effort to slow the spread of COVID-19.  Each playground will have posted rules and recommendations including information about the maximum capacity of the playground area. 
Assistant Parks & Recreation Director Amie Clark said, "Please comply with the posted rules at each playground.  Based on the square footage of a playground and using State social distancing guidelines, we have calculated the maximum capacity of people who should be on the playground surface.  This maximum capacity number includes the children playing and the supervising adults.  For example, the large Boundless playground at Noble Park has a maximum capacity of 129 people while the much smaller playground at Keiler Park on Broadway has a maximum capacity of 37 people." 
The playgrounds will be open daily from 10 a.m. until sunset.  During the early morning hours, city crews will be disinfecting the playgrounds, weather permitting.  Please make sure the playground surfaces are dry prior to allowing children to play. 
The Parks & Recreation Department also recommends the wearing of face coverings for people at least two years of age, practicing social distancing of at least six feet, and washing and sanitizing hands frequently. 
Clark added, "If you or anyone in your family is feeling sick or has COVID-19 symptoms, please stay home.  I also encourage families to discuss with children how to play safely so that they can interact with other children while maintaining social distancing."   
As a reminder, there are several other parks amenities available for enjoyment including the Greenway Trail, Noble Park Tennis Courts, Dog Park at Stuart Nelson Park, and the Skatepark.  The baseball fields are available for reservations.  For more information, contact Parks & Recreation at 270-444-8508.
###