City Manager Daron Jordan and representatives of the Paducah Fire Department were proud to attend today's Kentucky Firefighter Recruit Academy Class #1 Graduation ceremony in Powderly, Kentucky.  The ceremony recognized 26 participants from across the State with six firefighter recruits from the Paducah Fire Department.  Graduating today from the Paducah Fire Department are Nicholas Bogart, Jakobe Bridges, Nicholas Hatton, Hunter Matlock, Trayle Prescott, and Michael Winnans.
"First responders are on the front lines protecting our community, and we welcome these newest firefighters as part of Team Paducah," said City Manager Daron Jordan. "Today's firefighters do far more than fight fires.  The training they received will allow them to better serve our community as they respond to all types of hazards and emergencies."
Paducah Fire Chief Steve Kyle said, "This new Firefighter Recruit Academy provides high quality training more efficiently and effectively than departments can provide on their own.  In addition, the State Fire Commission provides the training, housing, and meals free of charge.  This Academy training saves valuable time and resources allowing us to be focused on maintaining our annual requirements and growing our in-depth knowledge of fire science with our current employees."
This is the first class of the Recruit Academy coordinated by the Kentucky Fire Commission and National Responder Preparedness Center.  The comprehensive academy involved 13 weeks of training.
To learn more about Kentucky Fire Commission State Fire Rescue Training, visit https://kyfirecommission.kctcs.edu/.
Pictured (back row):  Assistant Chief Jody Burton, Deputy Chief Greg Cherry, Fire Chief Steve Kyle, Deputy Chief David Denton, Recruit Nicholas Bogart, City Manager Daron Jordan, Recruit Jakobe Bridges, Fire Training Officer Chris Owen, Assistant Chief John Potter, and Assistant Chief Patrick Hatton
(front row) Recruit Hunter Matlock, Recruit Nicholas Hatton, Recruit Trayle Prescott, and Recruit Michael Winnans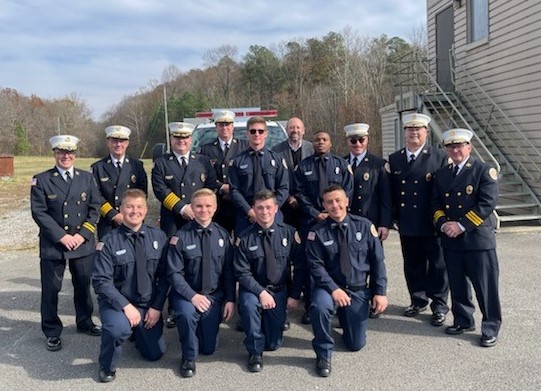 ###