Date of release:  November 19, 2020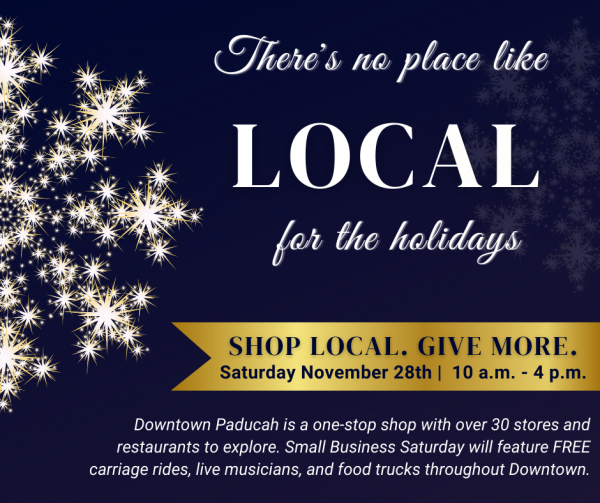 On the Saturday after Thanksgiving, historic downtown Paducah will be the place to be to get in the holiday spirit.  There's No Place Like Local Small Business Saturday is November 28 from 10 a.m. until 4 p.m. in downtown Paducah.  This traditional event to support the local business community is organized by Paducah Main Street, a division of the Paducah Planning Department.  Small Business Saturday will feature free carriage rides, live musicians, and food trucks that are spaced throughout downtown.
Paducah Main Street Director Katie Axt said, "Safety is a priority during the coronavirus pandemic.  Please wear facial coverings and be aware of the need to maintain social distancing.  This traditional shopping day often brings a great number of shoppers to downtown, but if everyone makes a concerted effort to be safe, we can stay healthy."
Axt added, "This year, it's more important than ever to stay local with your holiday shopping and dining.  Some of our local merchants are struggling during this pandemic.  They rely on Small Business Saturday to kickstart the holiday shopping season.  When you shop locally, your gift means so much more.  You give twice when you buy local because your purchase helps sustain businesses that hold up our community." 
In addition to in-store shopping experiences, many of the downtown boutiques and restaurants offer online ordering with delivery or curbside pickup. 
Also, from November 28 through December 24, be sure to put your name and phone number in the mailbox located at 203 Broadway for a chance to win merchandise in the Win the Window drawing.
Small Business Saturday is dedicated to supporting small businesses across the country.  Founded by American Express in 2010, this day is celebrated on the Saturday after Thanksgiving. 
###