History and Local Legacy
The lighting of the dogwood trail in Paducah became a tradition in April 1964 when the Civic Beautification Board began the tradition of touring Paducah in bloom at night. In 1964 when Dolly McNutt, chair of the Civic Beautification Board, visited Knoxville, Tennessee, she was taken by the beauty of Knoxville's lighted dogwoods. When she returned to Paducah, she persuaded members of the CBB that sponsoring a lighted dogwood trail would benefit Paducah. The first trail was two blocks long along Sycamore in Paducah's west end. The tour now is several miles in length showcasing Dogwood, Japanese Maple, Red Bud, and Weeping Cherry trees as well as blooming garden areas and other flowering species.
History of the Paducah Dogwood Trail Video (3:55 minutes)
In 2000, the Library of Congress accepted the Lighted Dogwood Trail as a Local Legacy.  The goal of the Local Legacy project was to document the creative arts, crafts, and customs representing community life across the nation.  The Lighted Dogwood Trail is permanently documented in the Library's American Folklife Center collections.  Members of Congress in every state submitted materials documenting nearly 1300 local customs and traditions.  The Lighted Dogwood Trail was submitted by then Rep. Ed Whitfield (1st District).  
Luxury Travel Magazine included Paducah Dogwood Trail's 50th Anniversary Celebration among top Spring Flower Festivals Across America in 2014.  Birds & Blooms listed the Trail as one of the 8 Must-See Flower Festivals for 2018.

Visit Paducah Dogwood Trail on Facebook.
---
2023 Dogwood Trail - 59th Anniversary
Dates, Judging, and Awards The 2023 Dogwood Trail will be April 10 through 16. Members of the Civic Beautification Board will judge on April 11. On April 12, with homeowner coordination, they will be place signs and banners in the yards of the winners. An awards ceremony for the Dogwood Trail winners and the winners of the Children's Dogwood Art Contest will be held at the May 9 meeting of the Paducah Board of Commissioners at City Hall. 
View the Artwork Paducah elementary school students were invited to participate in creating artwork with a focus on our beautiful dogwoods. An exhibition of our young artists' work can be viewed in the City Hall atrium through April 21 and then in the City Commission Chambers on the second floor from April 22 through May 9. 
Trail Features and Map The trail features several miles of dogwoods and spring plantings. While the trees are in bloom, there will be Dogwood Trail signs strategically located at each turn in the Trail. The tour showcases Dogwood, Japanese Maple, Red Bud, and Weeping Cherry trees as well as blooming garden areas and other flowering species. This is a daytime or nighttime trail as many homeowners use lighting to showcase their beautiful trees and shrubbery. Neighborhoods also are encouraged to show their patriotism by flying the U.S. flag. Be sure to notice the new trail signs and the banners along Jefferson Street featuring artwork by Civic Beautification Board member Carol Vander Boegh.
2023 Trolley Rides On Thursday, April 13 from 2 until 4 p.m. the Paducah Area Transit System (PATS) Trolley will provide free tours of the Dogwood Trail. Donations are accepted. This is a first come event with the trolley departing from 850 Harrison Street. A Paducah Ambassador will be on the Trolley providing historical narrative of the Dogwood Trail.
2023 Dogwood Trail Bicycle Ride with BikeWorld  The 2023 Dogwood Trail Bicycle Ride will take place Sunday, April 16 beginning at 2:30 p.m. from BikeWorld, 809 Joe Clifton Drive. Bike helmets are required.This FREE annual event, which has been held more than 30 years, allows riders to enjoy a leisurely ride through several of Paducah's beautiful neighborhoods and then back to BikeWorld. The course is approximately 11 miles with opportunities for riders to adjust the distance from a few blocks to a few miles to suit their wishes. Bicyclists share streets with car traffic and are responsible for obeying traffic laws. The streets are mostly residential, marked, and well signed with "Bike Route Today" notices. BikeWorld staff will ride the route on bikes to assist as needed. Children should be accompanied by responsible adults. If you have a question, contact BikeWorld at 270-442-0751.  At the end of the ride, BikeWorld hosts a southern style "dinner on the grounds." If there is extreme rain or storms at the time of the ride, it will be postponed until April 23.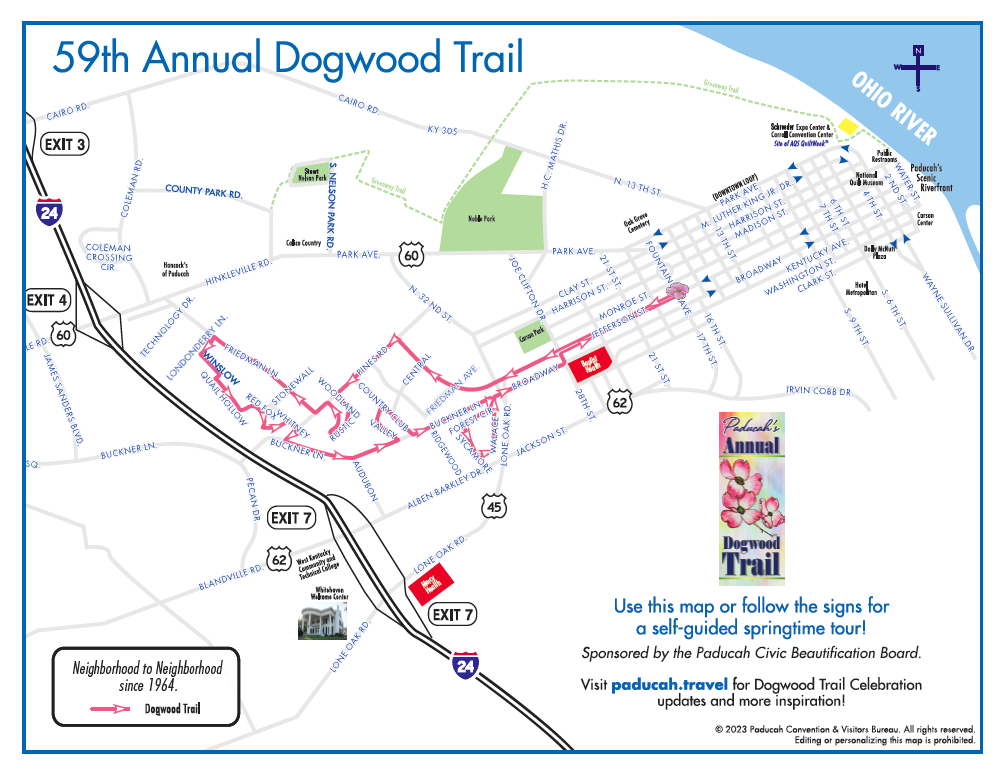 ---
Trail and Art & Photography Contest Winners
2023

Dogwood Trail Student Art Contest 2023 Winners

2022
2022 Dogwood Trail Winners
2021
2021 Dogwood Trail Winners
2020

As a show of unity during COVID-19, the Dogwood Trail prize money was donated to Community Kitchen.  

2019
Dogwood Trail Winners for 2019
2018

Dogwood Trail Winners for 2018

Photography Contest Winners:
1st Place:  Stephanie Young, Let's Dance
2nd Place:  Phyllis Russell, Twist and Shout
3rd Place:  Cindy Jones, Spring Backwards

Art Contest Winners:
1st Place:  Debra K. Talbert, Cornus Virgiana, mixed media
2nd Place:  Carol Tribou, Dogwood in Blossum, watercolor
3rd Place:  Barbara Harris, Dogwood Designed, ink jet print
---
Lighting and Planting
Tips for lighting dogwoods, azaleas, and other spring flowers include
Use low watt outdoor halogen bulb light sets
Use weatherproof outdoor cords and connectors
To grow a dogwood
Select a well-drained site with afternoon shade and plant a nursery grown tree.
Plant in late winter or early spring.
Dig planting hole twice the diameter of the rootball and at least 18 inches deep.
Refill hole to depth of rootball with loose soil Tap soil to provide a firm base for tree.
Place dogwood in hole, spread the roots, and pack soil around and over the roots.
After planting, water and cover soil with mulch except at tree trunk
Water weekly during dry periods. When watering, soak root area well. Do not drown trees planted in poorly drained soil.