Free Public Parking Areas
Are you planning a trip to historic downtown Paducah?  More than 500 parking spaces are available in the heart of downtown along the streets. However, if you are looking for off-street parking, please view the list of FREE public parking lots with more than 1000 total spaces.  Enjoy your visit to downtown Paducah!
Map of Public Parking Lots in Downtown Paducah
Paducah Convention & Visitors Bureau Downtown Directory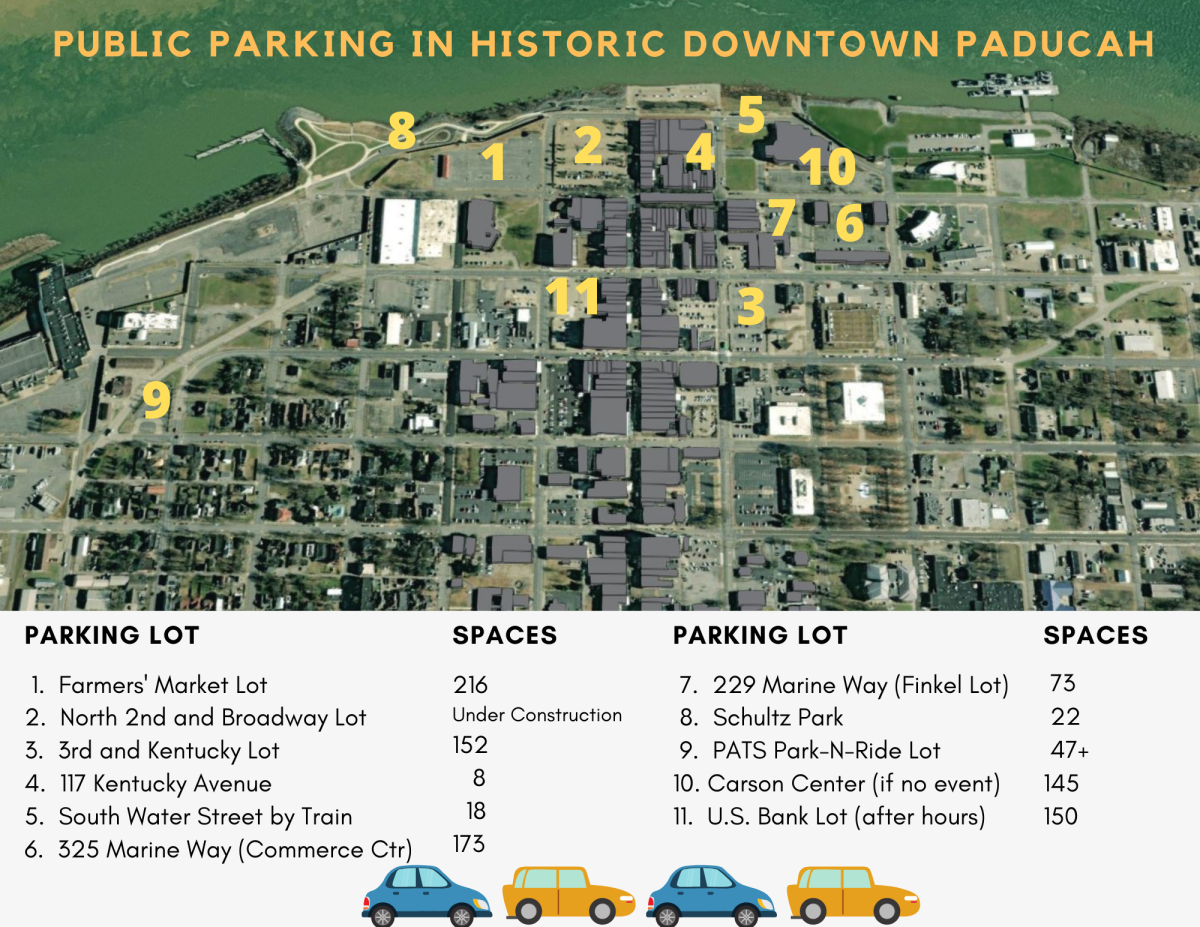 Farmers' Market Lot (200 North 2nd Street) – 216 spaces at North 2nd and Jefferson streets with the Farmers' Market at one end and public restrooms along Jefferson Street 
 North 2nd and Broadway (133 Broadway) – UNDER CONSTRUCTION - located at North 2nd Street and Broadway (see note below for City Block project)
 3rd and Kentucky (300 Kentucky Avenue) – 152 spaces
 117 Kentucky Avenue – 8 spaces next to Market House Theatre
 South Water Street – 18 spaces across from Iron Horse Train Memorial next to the Carson Center (100 Kentucky Avenue)
 325 Marine Way – 173 spaces behind the Commerce Center (300 South 3rd Street)
 229 Marine Way (Finkel lot) – 73 spaces across from Carson Center
 Schultz Park Lot – 22 spaces on river side of floodwall next to Transient Dock
 PATS Park-N-Ride Lot (421 Martin Luther King Jr. Drive) – more than 47 public spaces owned by Paducah Area Transit System (PATS) near the Convention Center
Note:  The majority of the parking lot at North 2nd Street and Broadway is unavailable since construction has commenced for the City Block project. There are some spaces currently available on the Broadway side of the lot. Once the project is completed, there will be approximately 175 parking spaces.
---
Neighbor Agreements for Parking
The City has agreements for the public to use two parking lots at times that do not conflict with business operations.
10.  100 Kentucky Avenue (Carson Center lots) – 145 spaces are available to the public when the Carson Center does not have a performance or educational activity.
11.  119 North 3rd Street (US Bank lot) – 150 spaces are available to the public during non-business hours.