Contact
Records Unit
The Records Unit (Monday through Friday, 8 a.m. until 4:30 p.m.) maintains all police reports completed by our officers in addition to body-worn and in-car camera videos, and investigative case files. In a typical year, the Records unit processes more than 660 case files, 2,000 warrants, and 10,000 traffic and criminal citations. The Records Unit is responsible for assisting citizens with obtaining copies of police reports (both criminal and collision reports), managing much of the department's paperwork flow, collecting parking violation payments, and tracking transport and extradition reimbursements.
Records, Reports, and Fees
Open Records - Police Records

Police records are accessible to the public for the retrieval of information. The Paducah Police Department adheres to the provisions of KRS 61.870-61.884 for the acceptance and dissemination of records. Pursuant to KRS 61.872, public records are open to inspection by any resident of the Commonwealth of Kentucky. In accordance with State Law, to inspect or obtain a copy of a record, submit a request in writing.  The request must be signed, with the name printed legibly, and a description of the records to be inspected. Although not required, you may use the Open Records Request Form for submitting your request. Once your request is received, a response will be received within 5 business days notifying the status of your request.  Written requests may be hand-delivered, mailed, sent via facsimile, or sent via email to Records Manager Amy Travis.

Traffic Collision Reports

Copies of collision reports can be obtained in person at the Police Department or via the internet at Buy Crash.  Only persons involved in an incident may obtain a copy of the report.

You will need to enter:

State
Jurisdiction (Paducah Police Department)
Last Name
Date of Incident

You will also need to enter one of the following:

Report Number for the incident given to you by the officer
Badge Number of the Reporting Officer
Driver's License Number

Criminal Reports

Copies of criminal reports can be obtained in person at the Police Department. Individuals will need the case number and report date. If you are unable to access your report, contact the Records Unit at 270-444-8663. 

Report Fees

Type of Report

Report Fee

Copies of Traffic Collision Reports

$5.00 each through the Paducah Police Department
$10.00 each through Buy Crash

Copies of Criminal Reports

$1.00 each (free for victims) through the Paducah Police Department

Copies of Videotapes/DVDs
Copies of photo CDs
Copies of Audiotapes
Copies of Large Files

$1.00 + an additional charge of 0.10 cents per page
---
Evidence Unit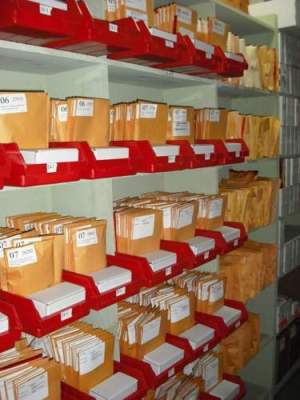 The Evidence Unit is responsible for the security and accountability of all evidence and property seized by the Paducah Police Department's sworn officers.  The unit maintains approximately 13,000 items of evidential value and conducts random quarterly audits to maintain the integrity of the system.  
Each year, the Evidence Unit logs more than 3000 new pieces of evidence with approximately the same number of items eliminated and disposed of through court-ordered release or destruction. 
The Evidence Unit releases forfeited firearms to the Kentucky State Police.  By State statute, the KSP takes the guns and resells them to licensed gun dealers.  The funds that are generated go toward the purchase of bulletproof vests.  Like many evidence rooms, the Paducah Police Department does not keep any seized money on the premises.  It is deposited into a bank until it is court-ordered to be returned or forfeited for use by the Police Department.
The duties for the Evidence Unit include
Storage of evidence and recovered property
Returning recovered property to owners or other investigating agencies
Maintaining records on all evidence and recovered property
Submitting evidence for analysis
Transporting evidence to various labs and court proceedings
Disposing of evidence following final disposition by the courts
Managing in-car video systems for police cruisers.