Traffic Safety
When it comes to traffic safety, you commonly hear the "E's":  education, enforcement, environment, and engineering.  The officers with the Paducah Police Department spend a great deal of time enforcing traffic laws as they patrol the streets.
Even though Paducah's population is approximately 27,000, the city is a hub of activity for the surrounding region.  The Paducah Chamber of Commerce estimates Paducah's daytime population can exceed 100,000 people.  This creates an increase in traffic and in collisions.
In the following video, Paducah Police Captain Joseph Hayes discusses what drivers should do when an emergency vehicle is approaching.
---
Traffic Citations and Collisions
Officers investigated 1821 vehicle collisions in 2022, up slightly from the 1791 collisions in 2021.  For a quick summary of facts and myths regarding traffic citations and collisions, read this Ask Paducah article.  The top vehicle collision locations are as follows: 
Hinkleville Road (US 60) between Olivet Church Road and Coleman Road;

Irvin Cobb Drive between Bethel Street and Wayne Sullivan Drive;

Lone Oak Road (US 45)  between Kennedy Road and I-24 Eastbound off ramp;

Lone Oak Road in the area of Jackson Street;

Jackson Street from 28th Street to the Beltline Highway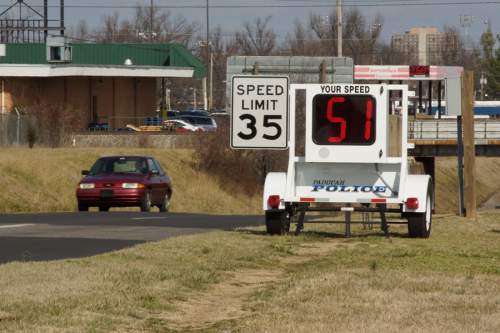 The Paducah Police Department does not collect the revenue generated by traffic citations.  In 2017, the department issued 4079 traffic citations ranging from speeding and red light violations to having no insurance and texting while driving.  There were 423 parking tickets written in 2017.
The Paducah Police Department contributes to state-wide campaigns such as "Click It or Ticket".  According to the National Highway Traffic Safety Institute, an estimated 85 percent of people used their seat belt in 2010.  Seat belt use has decreased the number of traffic related fatalities.  
The Department works to reduce the number of collisions so that officers have more time to conduct proactive policing.  An average traffic collision can occupy from 42 minutes to more than 2.5 hours of an officer's time depending upon the damage and severity of the collision.
Using funds from a MetLife Foundation grant, the Paducah Police Department purchased a roadside speed trailer to help educate drivers. This speed trailer also gathers data.  It has the ability to capture the speed of every vehicle that passes along with a time and date stamp.  The information is used to determine if there is a need for enforcement action as well as the best time to deploy resources to the area.  The Department also has made several presentations regarding the dangers of distracted driving and are trying to educate the public through the distribution of educational flyers.  
To learn more about the dangers of distracted driving, watch the following three-minute video.  
---
Collision Reconstruction Team
The Paducah Police Department's Collision Reconstruction Team responds to all fatal traffic collisions as well as serious crashes that may result in a fatality. The team members have extensive training in physics and mathematics and use specialized equipment to document and determine contributing factors that may have caused the collision. The team also assists detectives in documenting major crime scenes. The team was activated eight times in 2022. 
The Team's responsibility is to determine if criminal charges are applicable. If so, the Team investigates and helps in the prosecution of those cases which may involve felony or misdemeanor offenses. They also help document and preserve evidence that may later be used in civil proceedings. Also, the Team's investigations into causational factors help aid in the continuous research efforts underway by academics, government experts, and automotive engineers who are trying to make our automobiles and roadways safer.  
---
DUI Enforcement
The Paducah Police Department is grateful for the grant funding that it receives from the State of Kentucky to conduct targeted traffic and DUI enforcement. With the grant funding, officers are able to conduct check points and receive training to better detect impaired driving.