2022 Christmas Parade
The 2022 City of Paducah Christmas Parade was held Saturday, December 3 at 5 p.m. in historic downtown Paducah with the theme, Christmas in Candyland!
The parade began at 14th and Broadway and proceeded down Broadway before turning left on Water Street, then left on Jefferson Street, and right on 2nd Street before dispersing at the Monroe & 2nd Streets intersection.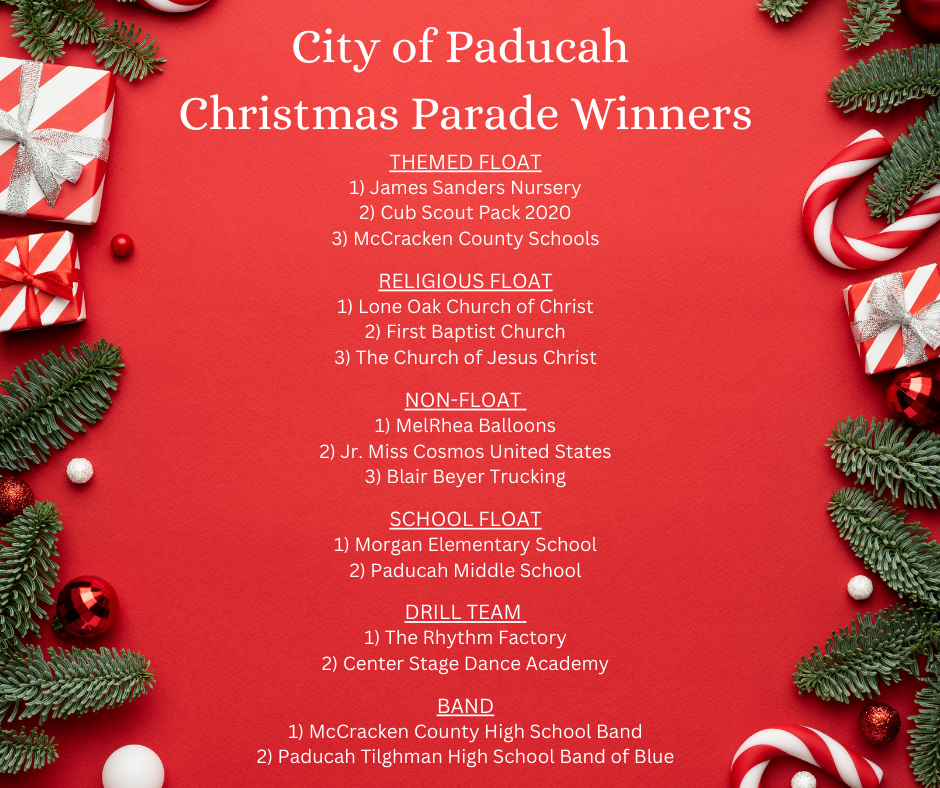 ---
Previous Christmas Parades
2021 Christmas Parade Winners - theme was It's a Super Christmas.
---
2020 "Christmas in the Trees" Float Event - The Parks & Recreation Department held a reverse parade also called an inverted parade.  The floats were stationary and attendees drove by to enjoy them.  The "Christmas in the Trees" Float event at Noble Park was December 5 from 5:30 until 9:30 p.m.  Attendees entered the park at the H.C. Mathis Drive entrance, continued along the road observing the floats, and exited at Cairo Road.  This event was limited to 42 floats with each float having no more than 40 feet of space.  2020 Christmas in the Trees Float Guidelines and Application (PDF)
---
2019 Christmas Parade Winners     2019 Christmas Parade Video >>
---
2018 Christmas Parade Winners     2018 Christmas Parade Video
---
2017 Christmas Parade Winners     2017 Christmas Parade Video
---