Contact

Parks & Recreation Department
The Paducah Parks & Recreation Department maintains 27 areas in the City of Paducah park system. This land is located across the city and includes the most visible city parks like Noble and Schultz Parks as well as smaller green areas like Caldwell park (14th and Park Ave), the public cemetery (Oak Grove Cemetery), non-park areas such as City Hall, and the Paducah Recreation Center.
History of City of Paducah Parks System
---
Staffing and Responsibilities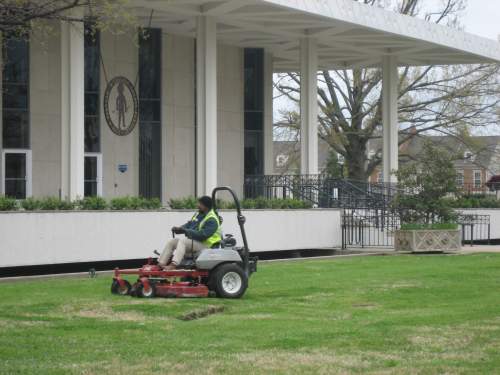 The Park Maintenance Division has several full-time staff along with part-time seasonal positions to keep up with the busy summer months.  These staff help keep parks mowed and policed for litter, equipment repaired, sports fields lined, and special events set up. 
Mowing - Park Maintenance strives to mow approximately 447 acres of land regularly. In order to maintain the parks according to the level of use they get some areas are mowed often more than others.  Baseball/softball fields, playgrounds and other high use areas are mowed weekly and sometimes biweekly.  Natural Areas, right of ways and vacant lots the City owns may be mowed less regularly. In the fall and winter mowing shifts to leaf mulching and removal.
Maintenance - Park Maintenance performs the minor repairs in the parks. Park Maintenance replaces basketball, tennis and soccer nets, repairs picnic tables and replaces damaged playground equipment.  The Park Maintenance Division also is responsible for maintaining all the small engine equipment used to maintain the parks. Parks staff repairs mowers, string trimmers, blowers and other items.
Landscaping - Park Maintenance is responsible for weeding, planting, watering and fertilizing many landscaped areas in the downtown parking lots, Broadway, Riverfront and Noble Park. The Civic Beatification Board and many private garden clubs maintain a large number of landscaped areas in Noble Park and in the downtown area in "adopt a spots."
Sports Facilities - Park Maintenance is responsible for preparing and maintaining 11 baseball/softball fields, 3 soccer fields, 7 horseshoe pits, 5 basketball courts, 7 tennis courts, and 1 skate park.