About the Plaza
Dolly McNutt Memorial Plaza is located at 301 South 5th Street between Paducah City Hall and the McCracken County Courthouse.  The Plaza encompasses one square city block.  There are four memorials in the park recognizing veterans who served in World War II, the Korean War, the Vietnam War, and the Global War on Terrorism.  
Historical Markers and Monuments (World War II, Korean War, Vietnam Veterans, and Global War on Terrorism)
8 concrete picnic tables and benches
Free wireless internet access
Fountain (drained during winter)
History of the Plaza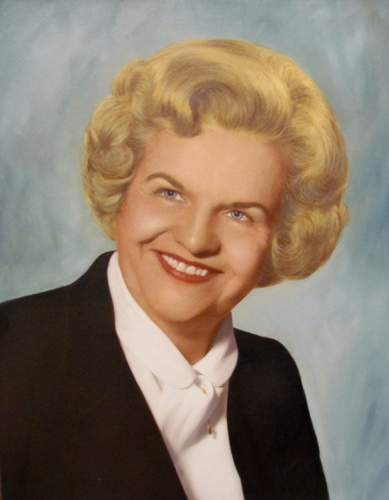 The plaza, formerly known as the City Plaza, was renamed Dolly McNutt Plaza in May 1986 to honor former Mayor Dolly McNutt (pictured) for her service as City Commissioner, Mayor, and state legislator. 
In November 2013, the Paducah Board of Commissioners adopted a resolution amending the name of Dolly McNutt Plaza to Dolly McNutt Memorial Plaza to recognize the memorials in the plaza.  The City received a letter in support of adding "memorial" to the plaza's name signed by representatives of American Legion Post 31, VFW Post 12022, DAV Chapter 7, and VVA Chapter 337.  A portion of the letter states, "The proposal is thus made that the name of Dolly McNutt Plaza be amended to Dolly McNutt Memorial Plaza to more accurately describe what the beautiful plaza has become – a lovely park-like, fountain laden gathering place in downtown Paducah which allows the community to continually honor citizens who have given much for the common good of all."  
The historical marker reads:  Dolly McNutt Plaza - Named for the Honorable Alice (Dolly) McNutt.  Member Kentucky House of Representatives, 1976-86; Mayor City of Paducah, 1972-76; City Commissioner, 1968-70.  Renowned for her outstanding ability as a public speaker.  Respected for her high standard of excellence and brilliant record.  Loved for her contribution of time, talent and service to all Kentuckians.  (Resolution adopted by Mayor Joe Viterisi, City Commissioners P.J. Grumley, Hal Cole, Robert Coleman, Harold Ford, May 13, 1986)