Contact

Parks & Recreation Department
Parks and Recreation Administration Offices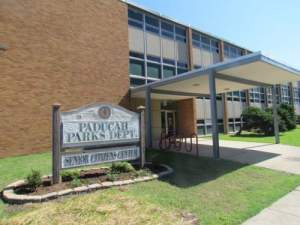 The Paducah Parks building located at 1400 H.C. Mathis Drive houses the Parks and Recreation Department administrative offices, classrooms, and the Paducah/McCracken County Senior Center.  A renovation project is underway that will relocate the Parks and Recreation offices to the Robert Cherry Civic Center.  
Office Hours: Monday-Friday 8 a.m. - 4:30 p.m.
Registration for all classes, leagues, and activities.
Reservations for picnic shelters in Noble Park.
Reservations for the Anna Baumer Community Center, the Arts and Crafts building, and Robert Cherry Civic Center.
Noble Park Pool passes
Facility has large activity rooms and one conference room.
The facility is located on 0.8 acres which used to be the West Kentucky Industrial College.  The historical marker in front of the building reads:  
Ground broken for this college on December 9, 1909 by Dennis H. Anderson, who had a determination to improve education for Negroes in Kentucky.  Cornerstone for first building laid, 1911.  Dr. Anderson failed to get bill passed in 1912 legislature to make school a state institution.  It did become state-supported in 1918 and by 1938 had grown to become the third largest Negro junior college in the United States.  Before it merged with Kentucky State, 1938, this college was served by Presidents D.H. Anderson, 1909-1937, and H.C. Russell, 1937-1938.  A vocational school established in 1938.  The following have served as its presidents:  M.H. Griffin, 1938-1943; H.C. Russell, 1943-1947; M.J. Sleet (Acting Pres.), 1947-1948; C.L. Timberlake, 1948-1957; and H.C. Mathis since 1957.  School has continued to meet the vocational needs of Kentuckians.
---
Paducah/McCracken County Senior Center and Offices
The Paducah/McCracken County Senior Center and offices (270-443-8579) are housed in the Paducah Parks building.  Senior center programs, meal program, dining room, and the senior activity room are independent of the Paducah Parks and Recreation Department. The Senior Center is working to construct a new facility near the intersection of Kentucky Avenue and 16th Street.